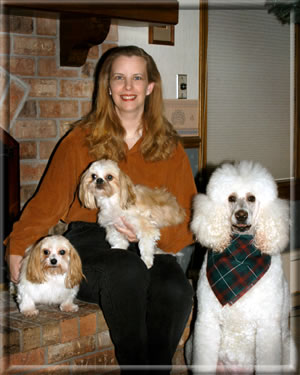 Ever since I was young I would gravitate toward animals. During family reunions on my uncleís farm all the other kids would play on the tractors and Iíd be in the barn with the animals. My family adopted our first dog, a lab mix named Frisky, when I was 12 years old. I believed that I knew what he was thinking, but my mom would say that I was imagining it.
Over the years Iíve had a multitude of pets including dogs, birds, mice, hamsters, gerbils, aquariums full of fish, and, at one point, I was a rescue home for guinea pigs, rabbits, and one three foot iguana. Since I was raised to believe that we cannot communicate with animals I believed that the bond I shared with each and every one was nothing more than love and affection.
One day in 1998 a friend gave me a copy of ďThe Tarantula WhispererĒ by Dr. Laura Pasten which is about a lady veterinarian who can hear the thoughts of animals. After reading it, I realized that I had the same ability.
I am a Christian who believes that God created animals, and gave them the ability to communicate with each other. Iíve been given a gift that enables me to tap into that form of communication, and I try to use this gift to help animals in need. For example, I am willing to give an hour of free service for rescue animals, because they are often adopted with problems that were caused by previously abusive owners. I have the utmost respect for those who are willing to open up their homes and hearts to a rescued pet, and if any communication that I might have with them can make the adoption easier, then I feel that Iím giving something back to God for all the blessings that I have received in my life.
Among those blessings are my husband, Roland (you can see a picture of him on the page entitled ďAbout JeanĒ), and my three rescue dogs seen in this picture; Molly, the Shih Tzu-Maltese on my right who was a puppy mill breeder, Grover, the one my lap who was the only puppy Molly was carrying when I adopted her, and Pierre, the Standard Poodle who was abandoned on the streets of Milwaukee. (Incidentally, if you are considering adopting a small dog, please begin with Limberlost Animal Rehoming Cause in Berlin, Wisconsin).
I also have a limited ability to communicate with pets that have passed; all animals have a soul which, when they die, go to Hheaven and are restored to perfect health. Please contact me about this service.
My dog, Friskey, was the first dog that I trained. Over the years I have owned eleven dogs, nine of which were rescues, and Iíve fostered two (fostering was difficult for me Ė Iíd become too attached). In addition to my own dogs, Iíve trained numerous others, including some that were extremely dangerous. I donít claim to know everything (frankly, anyone who claims to know everything about every dog would concern me Ė no-one knows everything) but Iíve had over 39 years experience, I am considered an expert in dog behavior, and when I couple my knowledge with my ability to communicate with them I get excellent results. My services include training the owner, so you must be willing to accept the possibility that you might be contributing to the cause of the unwanted behavior, and be willing to change. My services do not include basic training. If you need assistance in teaching your dog to sit or stay, there are many classes available for such a purpose. (In the West Bend area I recommend Go Over Rover.)
The average time I spend with a family is 2 - 3 hours. My fee is $45 per hour plus mileage. To receive the free hour for your rescue animal you must present the adoption papers. If I cannot help you there is no fee.
If you have any other questions, or to hire my services, please call (920) 229-1258 or email me.