---
| | | |
| --- | --- | --- |
| | Barbarian Axe | |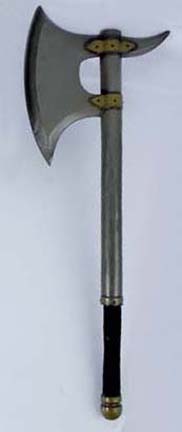 Barbarian Axe (FP003)

On sale now! Normally $80!




Statistics

-length: 36" or 90cm
-blade height: 13" or 32cm
-blade width: 12.5" or 31cm
-blade thickness: 1.3" or 3cm
-blade edge to back of shaft: 8" or 21cm
-handle: 7" or 18cm
-weight: 22 oz.
-spike height: 4" or 10cm
-shaft thickness: 2" or 5cm
-foam weight: cross-linked polyethelyne
-handle feel: firm
-core composition: fiberglass
-weapon tip pointed
-blade edges semi-beveled
-core ends capped to prevent tearing /splitting /punch-through of the foam

Quantity currently in stock: 0

On sale now! Normally $80!
---
---
| | | |
| --- | --- | --- |
| | Brode Barbarian Long Axe (MY101605) | |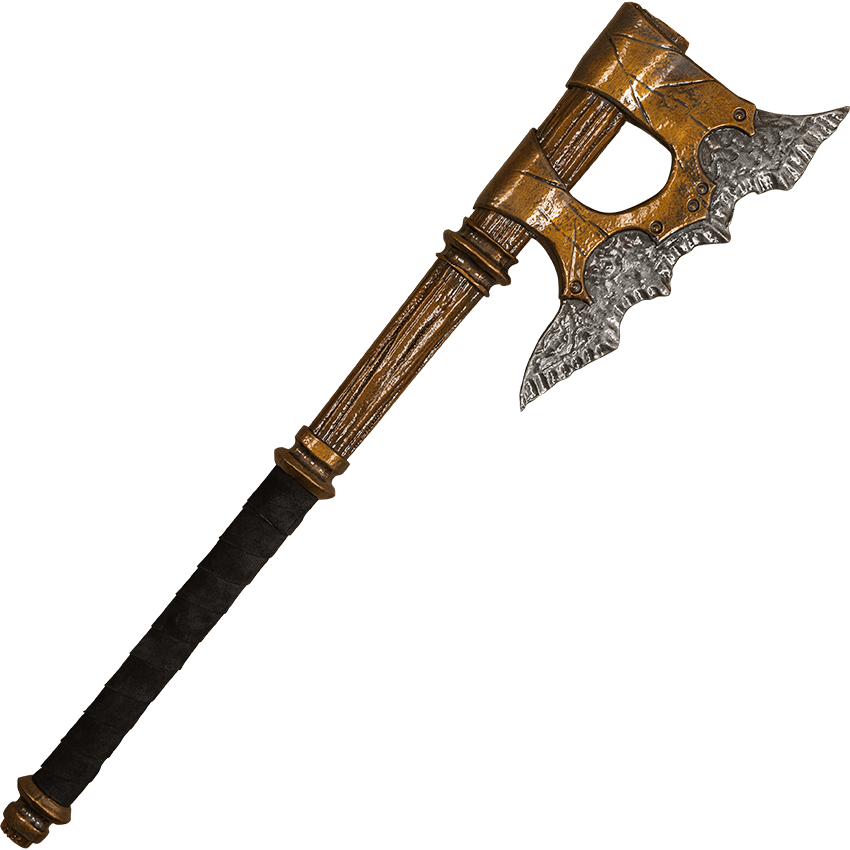 Brode Barbarian Long Axe (MY101605)

Barbarian? Orc? Bandit? Raider? This lovely Barbarian Long Axe is beautiful and deadly! It's a large, full sized Long Axe, it's big, and it is wicked. The axe head looks primitive but leathally effective, the grip is wrapped in black suede, and the overall effect is both intimidating and frightening! The bronze colored straps complete the look of this rugged and brutal Axe!

The core is a fiberglass rod, and the foam is covered with latex.

This is a gorgeous LARP weapon that is perfect for LARPing, costumes, cosplay, videos, theater, and onstage fighting!



Here are some additional pictures of the fearsome Brode Barbarian Long Axe:


Key Features:
A great affordable price
High safety, approved by all top organizations
Gorgeous, rugged look
Realistic design
Closed cell foam is durable and shred resistant
Multi-curved axe head
Realistic look
Flint-chipped blade edges
Suede wrapped grip
Made from specialty polyurethane foam


Specifications <
Overall Length: 35.4 Inches
Head Length: 15 Inches
Head Width: 8.3 Inches
Grip Length: 13.4 Inches
Handle: 6 Inches
Weight: 14 Ounces
Handmade, the actual measurements may vary slightly


Quantity currently in stock: 1
---