---
| | | |
| --- | --- | --- |
| | Full Medieval Scabbard, Long (T502853-3) | |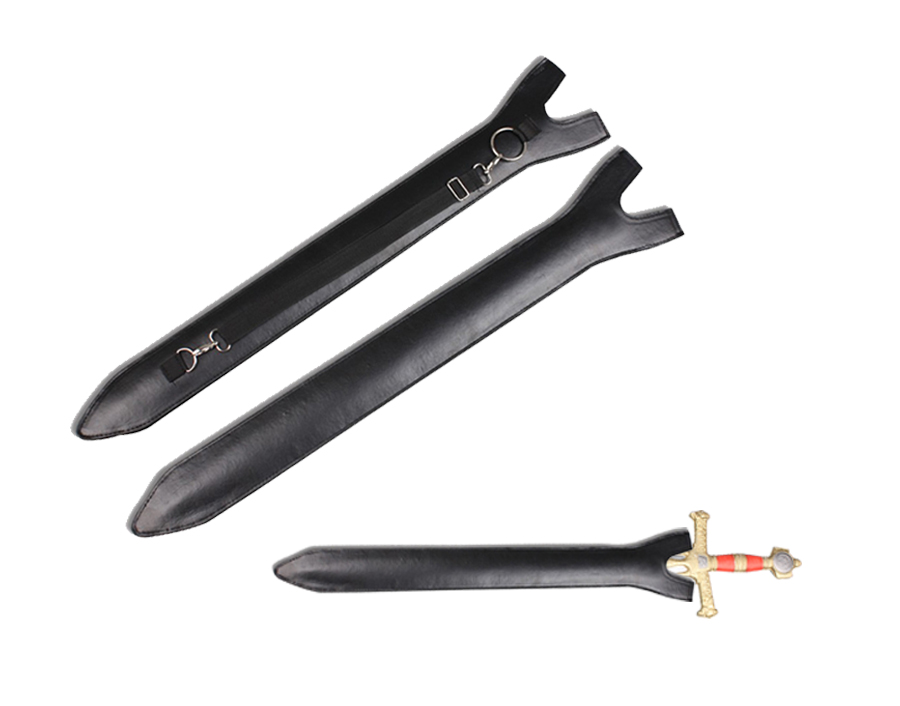 Full Medieval Scabbard, Long (T502853-3)

This gorgeous scabbard is made of a sturdy, thin leather that works well for holding an releasing your LARP sword. It is decorated with a full ring at the top and a D-ring connection at the bottom of the heath. An adjustable strap is provided connecting the two rings, but it can be expanded to carry the sheath across your back.

This long sized Full Medieval Scabbard will carry most standard LARP blades well, but will not carry extra-thick sized LARP blades. Examples that work well with this scabbard include but are not limited to:

Calimcail Musashi Katana
Calimcail Treville
Iron Fortress Hybrid sword with a straight, standard blade
Iron Fortress Hybrid Long Musketeer Sword
Iron Fortress Hybrid Medieval Knight's Rapier
Iron Fortress Noble



Key Features:
A great affordable price
High safety, approved by all top organizations
Superb look
Fits most sraight-bladed LARP swords
light weight
Great costume piece


Specifications
Overall: 34" long x 3.25 wide
Inner Length: 31"
Opening: 2.75" wide x 1.5" deep
Weight: 0.45 lbs or 204 grams


Quantity currently in stock: 2
---
---
| | | |
| --- | --- | --- |
| | Full Medieval Scabbard, Medium (T502853-4) | |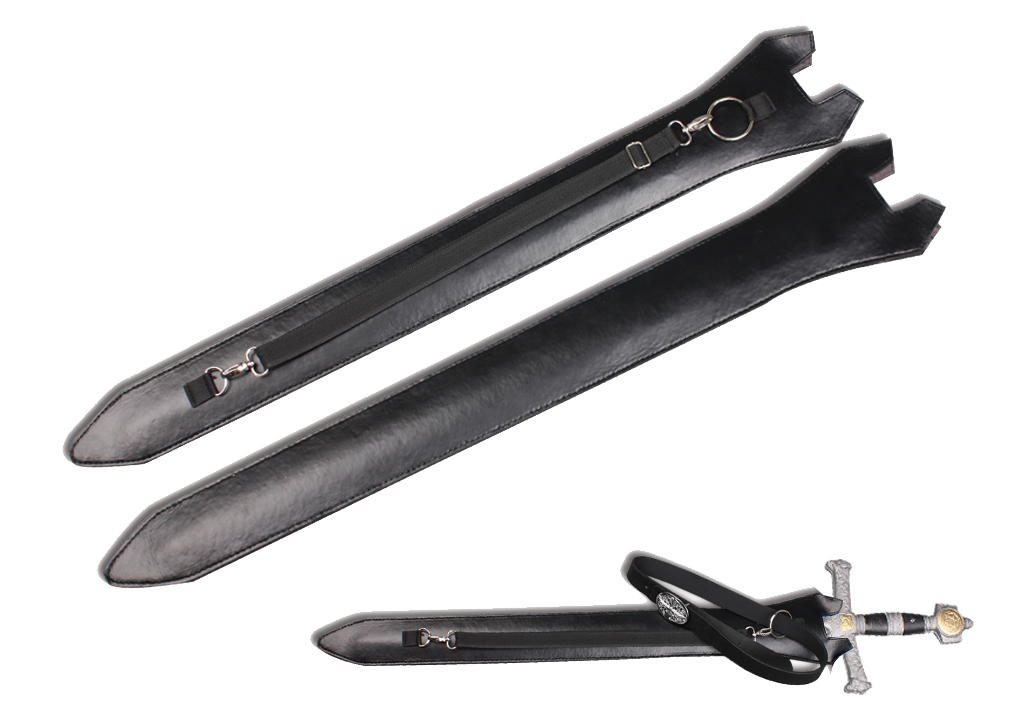 Full Medieval Scabbard, Medium (T502853-4)

This gorgeous scabbard is made of a sturdy, thin leather that works well for holding an releasing your LARP sword. It is decorated with a full ring at the top and a D-ring connection at the bottom of the heath. An adjustable strap is provided connecting the two rings, but it can be expanded to carry the sheath across your back.

This medium sized Full Medieval Scabbard will carry smaller LARP blades well, but will not carry most of the standard sized LARP blades. Examples that work well with this scabbard include but are not limited to:

Calimcail Cretzer
Calimcail Musashi Wakazashi
Iron Fortress Battle Ready swords
Iron Fortress Musketeer Sword
Iron Fortress Hybrid Medieval Knight's Rapier
Iron Fortress Angelic


Key Features:
A great affordable price
High safety, approved by all top organizations
Superb look
Fits most smaller-bladed LARP swords
light weight
Great costume piece


Specifications
Overall: 30.5" long x 3+ wide
Inner Length: 27"
Opening: 2" wide x 1" deep
Weight: 0.4 lbs or 182 grams


Quantity currently in stock: 4
---
---
| | | |
| --- | --- | --- |
| | Full Scabbard Noble (LP0419) | |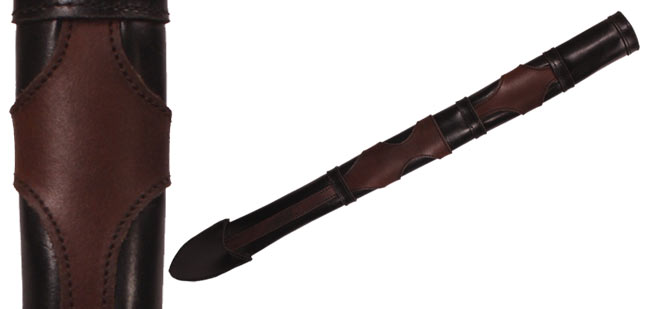 Longsword Full Scabbard Noble (LP0419)

Scabbards are a great way to carry your LARP sword around with you and also protects the blade section from getting damaged. Our LARP scabbards are made from durable vegetable tanned leather and the inside throat of the scabbard is lined with thick faux fur to protect the coating on your LARP sword when you slide it in and out of the scabbard. These are sharp looking scabbards. With adjustable mounting straps you can control the angle at which your sword hangs. Available for left or right handed draws.

Designed to fit any of the Palnatoke line of LARP Longswords these durable leather scabbards will fit a wide range of foam/latex swords as well. The mounting straps, or belt straps, are included.

The standard color of the leather scabbard is a matte black body with brown accents, with black mounting straps.

Key Features:

Stylishly holds and protects your LARP sword
Crafted from top quality leather
Scabbard throat lined in faux fur
Adjustable belt/mounting straps
Durable Split Leather Construction
Fits most Foam / Latex LARP swords


Measurements:
Overall length: 33.5 inches
Shape: tapered with a pointed end
Inner Depth: 30 Inches
Blade Opening: 2.25 width x 1.25 depth Inches


Quantity currently in stock: 0

Free shipping on this item!
---
---
| | | |
| --- | --- | --- |
| | Full Scabbard | |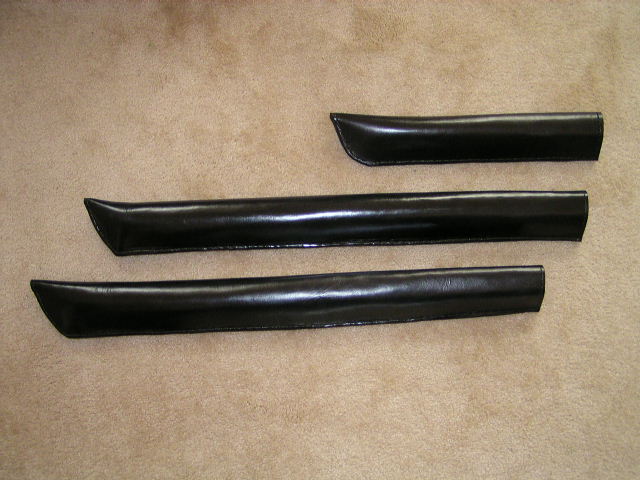 The blades on the Knighthawk Armoury line of LARP weapons are beautiful and are usually displayed when carried in a Sword Frog, but there are those who prefer the protection and beauty of a full scabbard. Knighthawk Armoury is proud to offer custom made Full Scabbards for any of the bladed weapons we carry.

The scabbards are constructed of a heavy-duty leather and are lined with thick felt to protect the latex blades. The exterior is then polished and waxed to a high sheen. Options to a Full Scabbard include a Kurigata and customized tooling. Each Full Scabbard is fitted to a specified model; i.e. to a Forgotten Dreams Chaos Longsword or to a Calimacil Templar Shortsword
(Note: A Kurigata is a loop attached to the scabbard through which a rope or silk cord is usually inserted, then attached to the wielder.)

The standard color of the leather scabbard is a glossy black. If a Custom color is required, please indictate what color is required in the COMMENT section of the CHECKOUT process.

The image shown above is a fitted set of Full Scabbards for two Katanas and a Wakazashi. Here is another view of the same set showing their felt lining:
Full Scabbards 2

Note that a full scabbard cannot be made for any blade whose tip is wider than its base. In the Forgotten Dreams Limited Edition, only the Duke's Sword and the Herald Sword are eligible for a full scabbard.

Since each Full Scabbard is made on a Custom basis, between two and four weeks will be required for each order.
Summary Of Options:
Option
Description
Fee

Custom Color

A color other than black. If the color is easily available there will be no extra fee, otherwise a fee of $10 will be added.
Zero or $10

Kurigata

Basic Kurigata, sewn to the scabbard from the top
$20

Tooling

The fee for tooling the scabbard is based wholly on your design requirements; the minimum fee is $20. The more complex the design, and the more work is involved, the greater the fee. We will require a photograph or drawing of precisely what is required, and any and all additional fees will be mutually agreed upon before we proceed with the tooling.

Simple tooling involves limited characters or limited design work
Complex tooling means a lot of design work or many characters will be tooled
Insane tooling means nearly the entire scabbard will be tooled, or the design work is extremely intricate or extremely delicate

In all cases the tooled work will be colored and sealed. Specify the fill color for the tooling in the COMMENT section as follows: TOOLING FILL COLOR =

Select the option you feel best matches your requirements. If we disagree with you, you'll hear from us....   :)
$20 and up
---