---
| | | |
| --- | --- | --- |
| | Ninja | |






NOTE: One of the Ninja swords we have in stock have a solid black handle; i.e. it does not have the white lacing on the handle. Please specify in the COMMENT block of the first Checkout page if you want the solid-black handle Ninja sword.

Statistics

-length: 36" or 91cm
-blade: 26.5" long x 2.5" wide x 1.25" thick
-blade: 66 cm long x 6 cm wide x 3 cm thick
-edges: semi-beveled
-handle: 6.5" or 16 cm
-pommel: 2" high x 1.5" diameter or 5 cm high x 3 cm diameter
-hilt: 4.5" wide x 2" tall x 1/2" thick
-hilt: 11 cm wide x 5 cm tall x 2 cm thick
-grip: firm
-weight: 16 oz.
-weapon tip: rounded point
-core: fiberglass
-hilt:
-core capped to prevent tearing /splitting /punch-through of the foam

Quantity currently in stock: 0

Free shipping on this item!

---
---
| | | |
| --- | --- | --- |
| | Ninja Katana | |


Ninja Katana

This sword is a faithful replica of the swords used by most of the Ninja clans in ancient Japan. It simplicity is elegant and provides for ease of use - which is why it was such a popular design for so many hundreds of years.

The standard color is black. Here is another picture of the Ninja:
Hilt


Statistics

-overall length: 41" or 104 cm
-blade length: 29" or 73 cm
-weight: 14.4 oz or 380 g
-handle style: firm
-handle size: 11.5" long x 1.75" diameter
-handle composition: Calimacil foam covered in flexible plastic for strength
-hilt size: 2.5" wide x 2" tall x 5/8" thick
-hilt composition: Calimacil foam covered in flexible plastic for strength
-foam weight: Calimacil proprietary composition, lightweight, sturdy, distributes force
-foam thickness depth to core on striking surface: +5/8"
-foam thickness depth to core on all non-striking surfaces: +3/8"
-foam thickness from core to end/tip: +1 ˝"
-standard core composition: fiberglass rod
-core composition: fiberglass rod
-weapon tips: semi-beveled
-striking surface: semi beveled
-core capped with a fiber matrix to prevent tearing or splitting of the foam


Quantity currently in stock: 2
---
---
| | | |
| --- | --- | --- |
| | Ninja Green Ragnarok Shortsword (LP0141) | |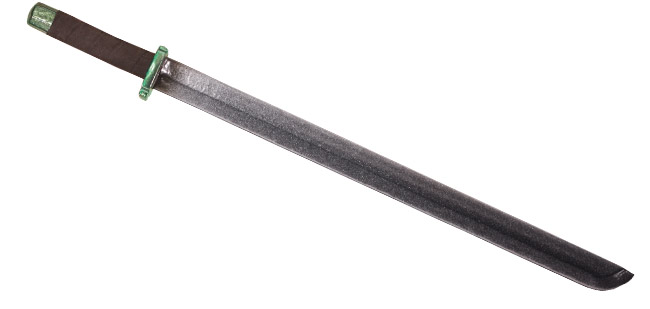 Ninja Green Ragnarok Shortsword (LP0141)

On Clearance!!! (Normally $75)


The Ragnarok latex foam kids swords from Palnatoke offer all the high end features of their full size counterparts, just in a smaller size. That means safe graduated flex tips, glass fiber core, and the markets most durable coating.


Key Features:

A great affordable price
High safety, approved by the top organizations
Strong latex coating
Graduated Tip Flex Reinforcement
10 Step Coating Process
Durable Glass Fiber Core

Specifications
Overall: 30.5"
Blade Length: 23.5"
Weight: 4.6 oz
Specs will vary slightly from piece to piece.


Quantity currently in stock: 0
---
---
| | | |
| --- | --- | --- |
| | Ninja II Bastard (SWNIX82fKHF1) | |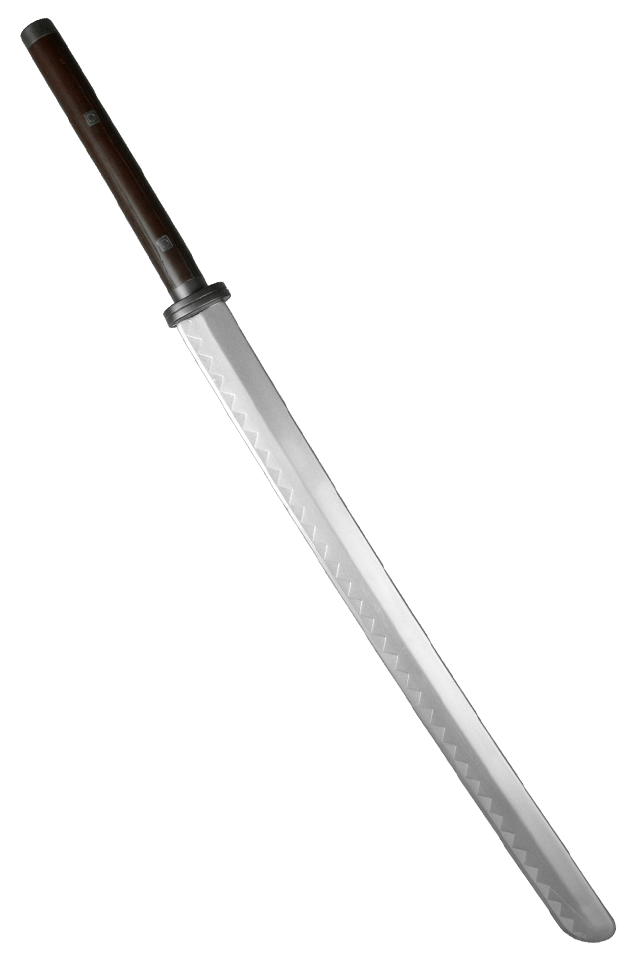 Ninja II Bastard (SWNIX82fKHF1)
This sword is a faithful replica of the swords used by most of the Ninja clans in ancient Japan. It simplicity is elegant and provides for ease of use - which is why it was such a popular design for so many hundreds of years.

While samurais had great ornate katanas, full of stories and renowned by all, it was absolutely illogical that ninjas use the same swords. However, as they wished to use the high quality of these blades, they had forged similar weapons, but simpler in design. This way, no one would recognize them in the city, and letting go of them in a risky escape would not bring dishonor on their family. These weapons were so efficient that they did not change for hundreds of years. Still today, some keep as treasures on of these swords, symbol of a lost era.

The Ninja II is the natural evolution of the first generation of this sword. Always made of safe Calimacil foam, this weapon will give you years of good use thanks to its unrivaled durability. The guard of the sword is now steel-coloured and the handle is brown. The blade stays silver-coloured to make a unique and incredibly realistic weapon.

Characters inspired by asian culture will appreciate this sword's unique design. Less detailed than the katana, it is perfect for anyone who is not noble-born, such as ninjas and spies, but also simple soldiers and mythical creatures of the far East.


Here are more close ups of this marvelous sword:



Statistics

-overall length: 45" or 114 cm
-blade length: 33" or 84 cm
-weight: 0.93 lb or 420 gr
-handle style: firm
-handle size: 11.5" or 29 cm
-grip length: 10.2" or 26 cm
-handle composition: Calimacil foam covered in flexible plastic for strength
-hilt size: 2" wide x 2.4" tall x 5/8" thick
-hilt composition: Calimacil foam covered in flexible plastic for strength
-foam type: Calimacil proprietary composition, lightweight, sturdy, distributes force
-foam thickness depth to core on striking surface: +5/8"
-foam thickness depth to core on all non-striking surfaces: +3/8"
-foam thickness from core to end/tip: +1 ˝"
-core composition: fiberglass rod
-weapon tips: flat surface, rounded tip
-striking surface: flat
-core capped with a fiber matrix to prevent tearing or splitting of the foam


Quantity currently in stock: 1

---