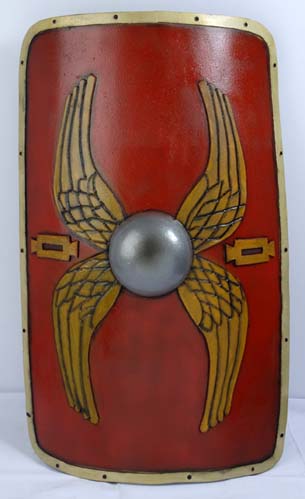 Roman Trooper Shield


On Clearance!!! (Normally $165)

Opponents will find it insanely difficult to strike you when faced with this maneuverable shield. This wall of defense provides the kind of protection only surpassed by tanks! Combined with the correct weapon, victory is all but certain.

The Roman Trooper shield is the largest available shield and will provide you with the maximum amount of protection. There is a reason that this design served Roman troopers practically unchanged for over a thousand years!




Statistics

-heigth: 35" or 87 cm
-width, curved: 23.5" or 59 cm
-width, edge-to-edge: 20" or 50 cm
-center depth: 3.5" or 9 cm
-foam thickness: 1.25" or 3 cm
-edges: flat edges, pure foam
-weight: 4.25 lbs
-lift: 1 x arm strap and 1 bar grip
-design: embossed and painted
-center protrusion: 2.25" or 6 cm


Please note that this item is NOT eligible for free shipping.

Quantity currently in stock: 0

On sale now! Normally $165!