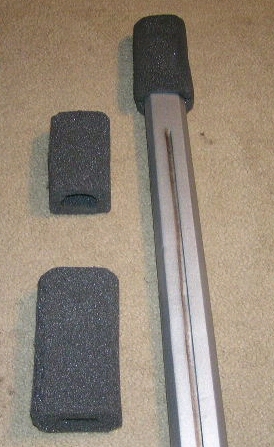 Some Live Action Role Playing groups have a special need for a removable CAP to cover the tips of these wonderful weapons. Using this CAP on our swords meets the "tip must be larger than an eye socket" rule in use by some LARPs. Using this CAP also provides a "squishy tip" to the sword, which then allows for thrusting in the traditional LARP manner.

This is a made-to-order item and is custom fitted to each sword. The final product will be a removable CAP for the sword tip comprised entirely of PES two pound polyurethane foam, and will have a minimal amount of external shaping. This is to allow you complete functionality when the CAP is received, but to also provide you with the maximum amount of flexibility in the final look of the CAP.


However...if you are so inclined, you are invited to use the instructions provided to build your own CAP. The recommended foam costs about $1 per square foot and does not shed. Doing it yourself is the least expensive way to get precisely what you want.

These items are made when ordered.

The CAP is 6" long x 3" wide x 2" deep (15cm x 7.5cm x 5 cm).