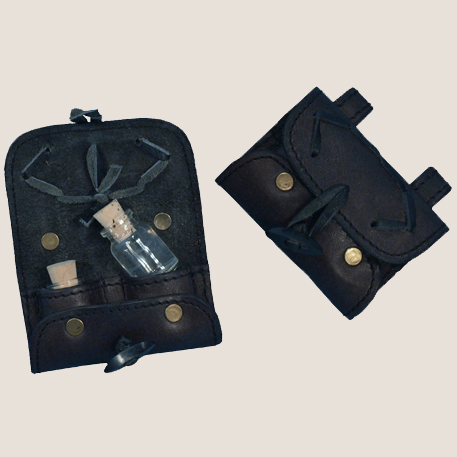 2 Potion Holder

This sturdy and beautiful holder is made of a thick leather, with form-fitted receptacles for the two bottles. The two bottles are included - they have a classically cool shape, are made of glass, and have a cork stopper. The outer flap of the holder is controlled with a large button whose pointed ends make it very easy to use. When the flap is closed, you have a small, elegant, easily accessible container for two of your most essential potions or personal concoctions!




Statistics

-size: 4" wide x 3" tall, or 10.2 x 7.6 cm
-thickness: 1.75" or 4.4 cm
-bottle size: 2" tall x 1.75" diameter or 12.7cm x 4.4 cm diameter
-bottle shape: classic, with a tapered top
-bottle top: 7/8" outer and .5" inner diameter (2.2 cm, 1.3 cm)
-pouch belt loop: accommodates up to a 2" or 5 cm belt
-weight: 0.2 lbs or 90 grams


Quantity currently in stock: 4

Free shipping on this item!