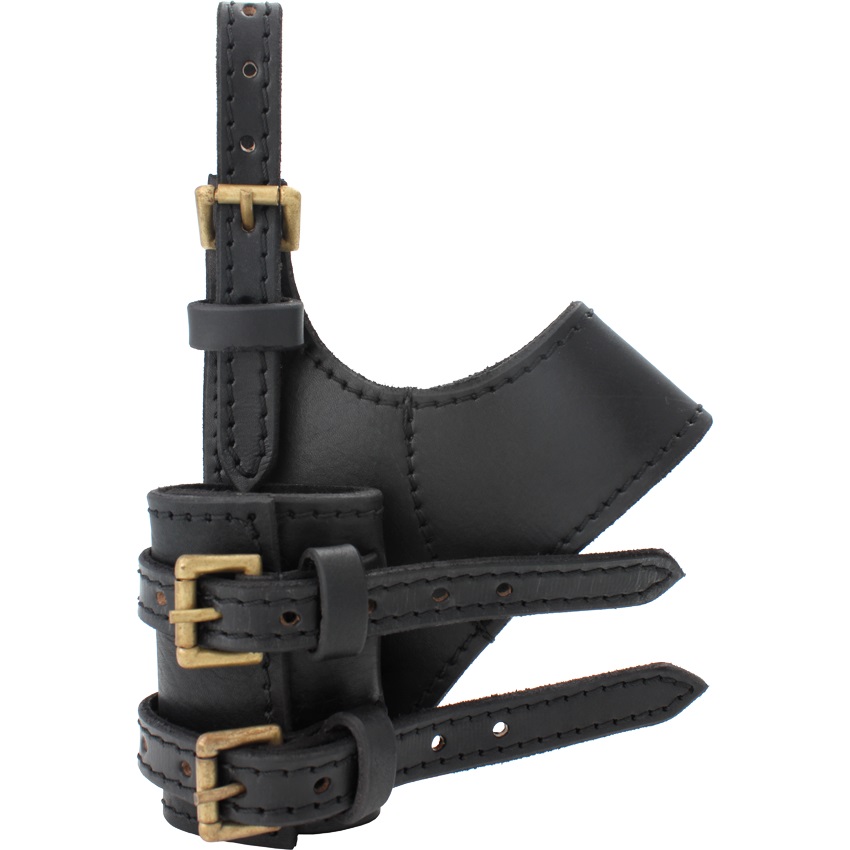 Adventurer's Frog

Designed specifically for serious duelists, and embodying a great deal of flexibility in the types of swords it can handle, the Adventurer's Frog is also great looking and promotes a lightning quick draw. Made with a beautiful heavy leather, this scabbard is formed specifically to fit most of the Knighthawk Armoury line of swords, and is hand-stitched for exceptional durability.
Crafted from fine quality leather, this sword frog offers a duo of belt straps for a stable and secure mount as well as a buckled loop for supporting your sword at your side. Adjustability ensures that your sword is as snug or as loose as you need. The Adventurer Sword Holder fits easily onto most belts and is a must-have addition to any LARP look or gear arrangement, especially if you plan on carrying your sword at your side!

Here's a picture of the Adventurer's frog in brown:
| | | | |
| --- | --- | --- | --- |
| | | | |


Statistics
-max length: adjustable upper loop - 9" or 22.8 cm
-max length: fixed lower loop - 6" or 15.2 cm
-width: 6" or 15.2 cm across the center
-blade size: minimum - .75" deep and 1.4" wide
-blade size: maximum - 1.5" deep and 2.5" wide with the blade fully enclosed
-blade size: fully expanded - 2.75: diameter with the blade partially enclosed
-material: durable heavy leather
-sturdy hand-stitched construction
-sturdy stainless steel buckles
-fits most of the Knighthawk Armoury swords
-will accommodate belts of up to 1.25" in width
-hang angle is adjustable
-weight: 0.3 lbs.
In Stock
| | |
| --- | --- |
| Left Handed | Right Handed |
| 4 | 4 |

Quantity currently in stock: 4