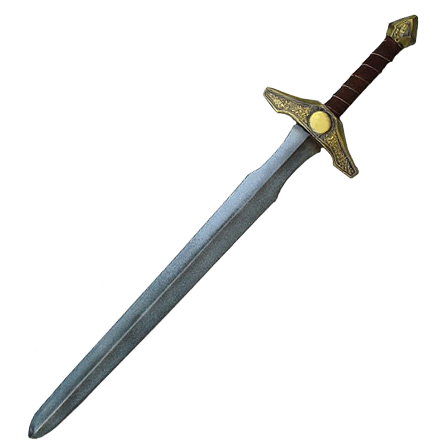 Battle Ready Adventurer Sword

When you wield the Adventurer sword, you are ready for your next saga! Your sword will seem as light as a feather and twice as agile. This impressive weapon features a sold and good looking hilt with a classic, straight-edged blade. It is made from extremely durable foam that does not shred and is sealed with a strong coating of latex. A suede wrapped handle ensures that even during the heat of battle, the blade remains comfortable to wield. And since safety is always a concern in LARP, this sword also features a round, flexible fiberglass core capped with a strong Kevlar tip for protection.

Note that the hilt comes in various colors, including gold and steel, and we have no control over which colors we receive.
This LARP sword is a handmade item, so its measurements may vary slightly from what it listed below.



Statistics

-length: 33 inches or 84 cm
-blade: 22.5" long x 2.25" width x 1" thickness
-handle: 5.5" long x 1" diameter
-hilt: 6.75" wide x 1.5 x 1" thick
-pommel: 1.75" long x 1.5" wide x 1" thick
-handle firmness: very firm
-weight: 0.55 lbs
-foam thickness depth to core on striking surface: +5/8"
-foam thickness depth to core on all non-striking surfaces: 5/16"
-foam thickness from core to end/tip: +1 ½"
-foam weight: proprietary cross-linked polyethelyne
-core composition: fiberglass rod
-weapon tips: beveled and pointed
-striking surface: beveled
-core capped to prevent tearing /splitting of the foam


Quantity currently in stock: 2

Free shipping on this item!