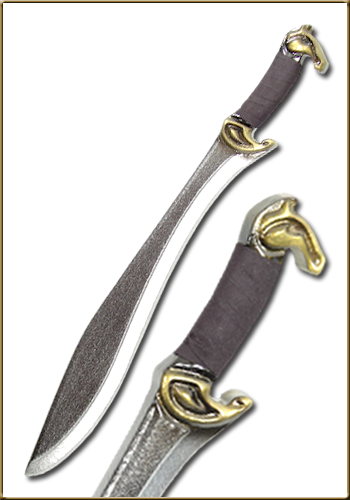 Ancient Falcata Alexander

With a length right at 24 inches in length, this beautiful weapon was the inspiration for the Khukri, the chosen weapon of the deadliest knife fighters in the world: the Ghurkas. Longer than a standard dagger but shorter than a standard short sword, this deadly blade allows for speedy parries that can be instantly turned into devastating close-in attacks.


Statistics

-length: 24 inches or 60 cm
-blade: 18 x 2.5 x [1.25 - 1] inches or 46 x 6.4 X [3.2 - 2.5] cm
-handle: 4 long x 1.5 diameter, inches or 10 x 3 diameter, cm.
-hilt: 2.5 x 1.25 x 0.4 inches or 6.4 x 3.2 x 1 cm
-pommel: 2 x 1.25 x 1 inches or 5 x 3.2 x 2.5 cm.
-handle firmness: medium
-foam thickness depth to core on striking surface: +5/8"
-foam thickness depth to core on all non-striking surfaces: 3/8"
-foam thickness from core to end/tip: +1 ½"
-foam weight: cross-linked polyethelyne, similar to Trocellen (tm)
-core composition: fiberglass
-weapon tips: beveled and pointed
-striking surface: beveled
-core capped to prevent tearing /splitting of the foam
-weight: 0.25 pounds or 114 grams

Quantity currently in stock: 2

Free shipping on this item!