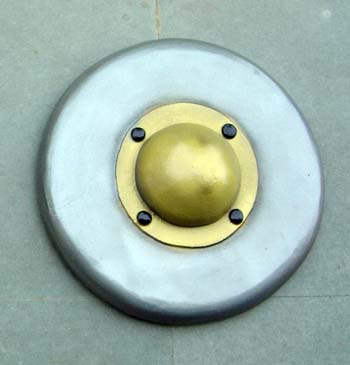 Archer's Buckler


On Clearance!!! (Normally $70)

Opponents will find it incredibly difficult to strike you when faced with this extremely lightweight and highly maneuverable shield. Combined with the correct weapon, victory is all but certain.

This is the second smallest of the round shields; the Footman's Metal shield is slightly smaller. The difference between the two lies in the type of grip: this shield uses the single center bar in the middle of the back of the shield. This single bar grip makes it extremely maneuverable and very, very, fast.




Statistics

-diameter: 17" or 43 cm
-edges: half-round
-foam thickness: 1" or 2.5 cm
-weight: 1.15 lbs or 521.63 g
-lift: single center bar
-grip bar length: 4" or 10 cm
-grip bar diameter: 1.5" or 3.75 cm
-center depth (in back): 1.5" or 3.75 cm
-front design, outer diameter: 7.5" or 19.1 cm
-front design, bubble diameter: 5.25" or 13.3 cm

Quantity currently in stock: 0

On sale now! Normally $65!