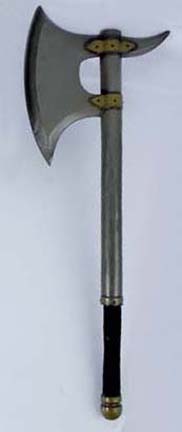 Barbarian Axe (FP003)

On sale now! Normally $80!




Statistics

-length: 36" or 90cm
-blade height: 13" or 32cm
-blade width: 12.5" or 31cm
-blade thickness: 1.3" or 3cm
-blade edge to back of shaft: 8" or 21cm
-handle: 7" or 18cm
-weight: 22 oz.
-spike height: 4" or 10cm
-shaft thickness: 2" or 5cm
-foam weight: cross-linked polyethelyne
-handle feel: firm
-core composition: fiberglass
-weapon tip pointed
-blade edges semi-beveled
-core ends capped to prevent tearing /splitting /punch-through of the foam

Quantity currently in stock: 2

On sale now! Normally $80!