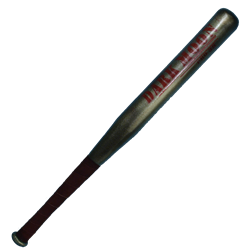 Baseball Bat (IF-403513)

The Dark Moon Baseball Bat is made from extremely durable foam that does not shred and sealed with a strong coating of latex. This item features a round flexible fiberglass core with strong Kevlar core tip protection. The Baseball Bat is so authentic looking, without touching it, it is hard to tell that this is made of foam. The Dark Moon Baseball Bat is perfect for any futuristic LARPs and makes for a great character accessory or prop


Statistics

-length, overall: 31.5" or 80 cm
-length, shaft: 20" long x 2.5 diameter tapered or 50.8 long x 6.4 dia. tapered cm
-handle: 11" or 28 cm
-foam thickness depth to core on striking surface: +5/8"
-foam thickness depth to core on all non-striking surfaces: +3/8"
-foam thickness from core to end/tip: +1.5"
-foam weight: cross-linked polyethelyne, similar to Trocellen (tm)
-handle firmness: medium
-weight: 0.65 lbs. or 295 grams
-core composition: fiberglass
-weapon tip flat
-striking surface flat
-core capped to prevent tearing /splitting /punch-through of the foam

Quantity currently in stock: 1

Free shipping on this item!