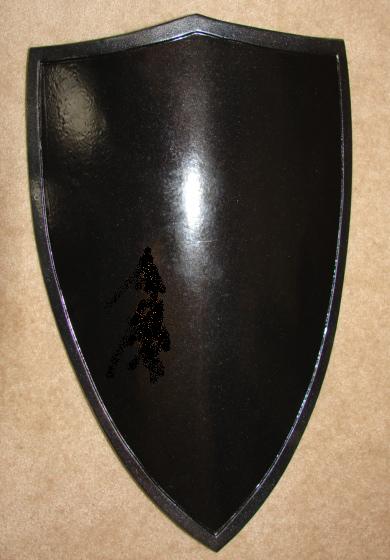 Basic Heater Shield


On Clearance!!! (Normally $105)

Opponents will find it incredibly difficult to strike you when faced with this lightweight and highly maneuverable shield. Combined with the correct weapon, victory is all but certain.

The design of the Basic Heater shield is that of the standard "heater" shield from the Middle Ages. It provides the maximum amount of protection with the maximum flexibility of use. That was the reason that this shield design was the most popular one in the Middle Ages for almost eight hundred years.

The plain black face plate means that if you wish, you can customize this shield in any way you want. You can put your own heraldry or design on this shield, in the color and style that YOU want!

Here are some more pictures of the Basic Heater Shield:
Back
Top edge

The standard color scheme for this item is a steel rim with a solid black faceplate.

Please contact me if you want a different color scheme with this shield. This can be done, but like all back-orders the lead time will be 8 - 10 weeks.





Statistics

-height: 27" or 68 cm
-max width: 17" or 43 cm
-foam thickness: 1.25" or 3 cm
-edges: flat
-weight: 1.95 lbs
-grip: 2 x arm straps
-curve depth: 3" or 8 cm
-design: engraved and painted

Quantity currently in stock: 0

On sale now! Normally $90!