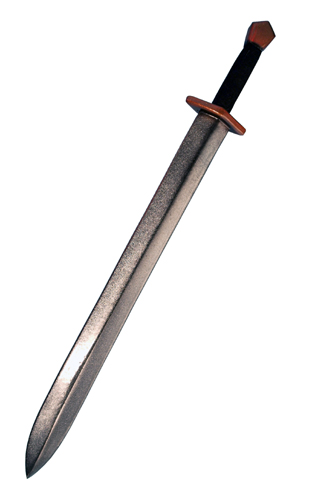 Battle Ready Short Sword

Please note that the hilts come in different colors, and we have no control over which colors are sent, so use the drop-downs to specify your primary hilt color choice and your alternate choices.


Statistics

-length: 29" or 73cm
-blade: 22.5" or 56cm
-handle: 4.25" or 11cm
-haft: 4" or 10cm
-pommel: 2" or 5cm
-foam thickness depth to core on striking surface: +5/8"
-foam thickness depth to core on all non-striking surfaces: +3/8"
-foam thickness from core to end/tip: +1.5"
-foam weight: cross-linked polyethelyne, similar to Trocellen (tm)
-handle firmness: firm
-weight: 0.45 lbs.
-core composition: fiberglass
-weapon tip pointed
-striking surface beveled
-core capped to prevent tearing /splitting /punch-through of the foam

Quantity currently in stock: 5

Free shipping on this item!