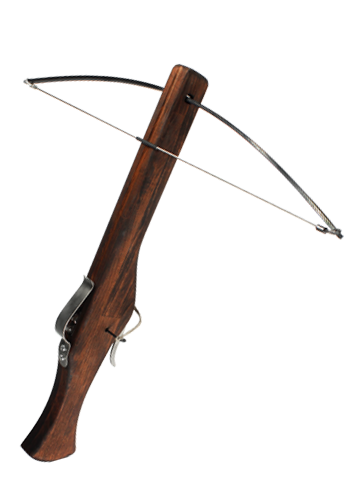 Beginner's Crossbow

This is the perfect choice for someone who wants a simple and basic crossbow. With a draw weight of 25 pounds, when used with IFV crossbow bolts, this item is safe for LARP combat.


Product Description
The Facts:
shaft made of sturdy beechwood
Durable fiberglass bow
string made of sturdy steel wire
effective & safer trigger mechanism function
Practical safety pin
Massive metal parts
3 years garantuee with proper use and care
Made in Germany
Measurement wooden stock: 21.7 x 1.6 inches or 55 cm x 4 cm
Measurement bow: 23.6 inches or 60 cm
Bow strength: 25 lbs at a 28" string


The hold-down
and the pin guide is designed for the IDV-security-bolds and your own LARP storage. They keep the bolts on the string and allow a precise targeting.

The bow string
is made of stainless steel wire (V2A). This makes them completely weather resistant and tear resistant.

The shaft
is made of sturdy beechwood. The high-quality glaze emphasizes not only the natural grain, but also makes the wood resistant to weather and makies it rain repellent.

The Arc
of black fiberglass is particularly flexible, yet still robust. By a screw clamp can he easily be detached from the attachment so that the crossbow can be disassembled if necessary. The bow has a traction of 28 lbs.

The lock mechanism
and its launching mechanism were designed based on historical models. We've optimized it for modern use and reliable operation. The handling is very easy, because the mechanism can lock the nut.

The Stirrup
of the crossbow was shaped by hand and sturdy riveted. It helps with tension and gives you the stylish look of genuine historical crossbows.


All crossbows are sold only with proof of age (minimum age 18 years); this means sufficient signed photocopies of your identity card, passport, birth certificate, or driver's license. You will need to send us a copy of the signed document via post, e-mail, or fax together with your order. The order will only shipped after your age has been verified.

Note: This item is not eligible for free shipping.

Quantity currently in stock: 0

The one left in stock is waiting for a part to be delivered. Once that part arrives, it will be ready to ship.



| | | |
| --- | --- | --- |
| IDV Operating Instructions for Crossbows (English) | 709 KB | |
| IDV Operating Instructions for Crossbows (International) | 2.4 MB | |

Get Adobe Acrobat Reader



For shipments outside the USA using the USPS, please check the rules of your country to see if a LARP crossbow is allowed.
USPS Laws on Crossbows

We wish to emphasize that YOU are responsible for knowing and following the laws of your own country and state.
Please do not order this item if it is not allowed where you live.