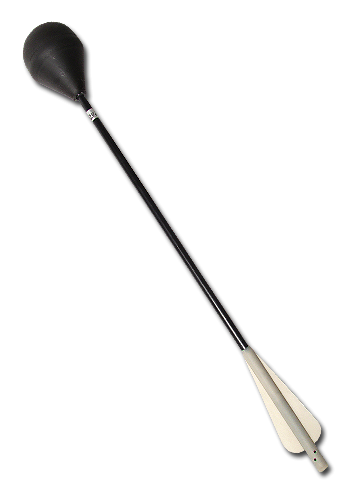 Crossbow Bolt, Glow in the Dark

These round-head padded bolts are designed by IDV Engineering to be used safely in LARP combat using a crossbbow with a maximum draw of 30 lbs. (Note: IDV is a German company and most of their website is in German.) Note that many LARPs only allow a crossbow with a maximum draw of 25 lbs, and these arrows will work brilliantly with that strength crossbow. These bolts have been extensively tested and are the standard against which all other LARP bolts are measured.

Be sure to download and read the User Manual before using these arrows in your event. There's also an IDV flyer that's fun to look at.

IDV Safety Bolt
The IDV bolt can certainly be regarded as one of the safest bolts on the market. The high safety standards have been applied, and these items have been checked and approved by tests for multi-level quality assurance and by independent tests.

The bolt is provided with a safety header. The foam which is used provides for premium damping characteristics and enormous tear strength. The included pressure distributor is produced by an injection molding method and spreads the occurring impact out equally to the complete set of padding. Pressure impact and risk of injury can therefore be lowered to a minimum. The inlay has been completely re-engineered and the safety header is now also crush-proof and unbreakable, even with enormous force applied.

The shaft is made of a modern fiberglass compound, which is characterized by durability and safety. Although cracks are extremely rare, a crack will be obvious long before the bolt breaks. The breaking point doesn´t form sharp spikes but frays out in relatively soft bunches, which pose no threat. The flexibility of the shaft enables high accuracy even over long distances.

The fletching is a single piece of ductile and flexible Elastomer-plastic, which provides for ideal durability and safety.
| | |
| --- | --- |
| | |

Statistics

-overall length: 16.5" or 42 cm, including the nock
-shaft length: 14" or 36 cm, including the nock
-fletching size: 3.5" long x 0.5" high or 9 x 1.25 cm
-fletching color: white, glow in the dark material
-fletching material: polymer composite
-striking surface: fully rounded
-head: fully rounded, 2.75" long x 2" diameter or 7 x 5 cm
-head: soft rubber tip, medium-hard center ring and backing
-weight: 2.25 oz or 68 g
-flex: minimal
-composition: IDV proprietary foam
-foam weight: IDV proprietary composition, lightweight, sturdy, distributes force
-shaft composition: fiberglass


Quantity currently in stock: 6