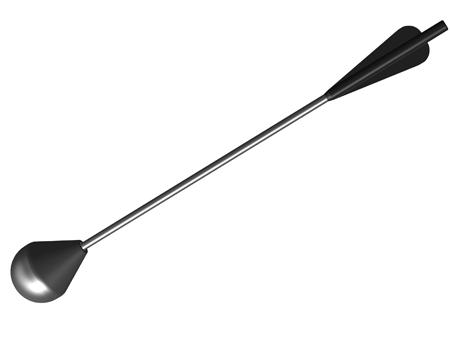 Crossbow Bolt

These round-head padded bolts are designed by IDV Engineering to be used safely in LARP combat using a crossbbow with a maximum draw of 30 lbs. (Note: IDV is a German company and most of their website is in German.) Note that many LARPs only allow a crossbow with a maximum draw of 25 lbs, and these arrows will work brilliantly with that strength crossbow. These bolts have been extensively tested and are the standard against which all other LARP bolts are measured.

Be sure to download and read the User Manual before using these arrows in your event. There's also an IDV flyer that's fun to look at.

Please note that back-ordered bulk orders will have a lead time of two to four weeks.


| | |
| --- | --- |
| | |





Statistics

-overall length: 17" or 43 cm, including the nock
-shaft length: 14" or 36 cm, including the nock
-fletching size: 3.5" long x 0.5" high or 9 x 1.25 cm
-fletching color: black
-fletching material: polymer composite
-striking surface: fully rounded
-head: fully rounded, 2.75" long x 2" diameter or 7 x 5 cm
-head: soft rubber tip, medium-hard center ring and backing
-weight: 2.25 oz or 68 g
-flex: minimal
-composition: IDV proprietary foam
-foam weight: IDV proprietary composition, lightweight, sturdy, distributes force
-shaft composition: fiberglass

Quantity currently in stock: 2