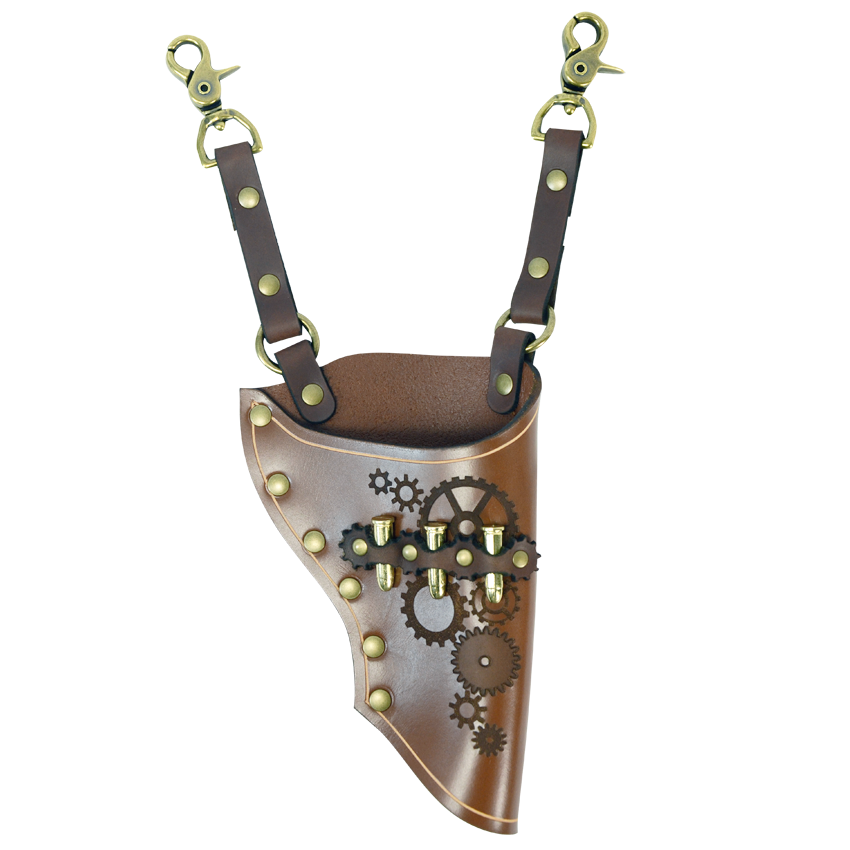 Geared Steampunk Pistol Holster
br> Danger can be just around the bend in a steampunk setting, which is why you should never go anywhere without your weapon of choice. And if that weapon is a pistol, you can carry it in style with this Geared Steampunk Pistol Holster. This holster is handsomely crafted in quality leather and richly accented with steampunk detailing. Gears are engraved into the leather for that authentic look and feel, while a trio of bullets are locked onto the holster with a leather gear-strap. The holster is suspended on clasps to make it easy to attach to your steampunk utility belt. It is designed to fit most civil war and western pistols. Note that the holster does not come with a pistol or any other accessory. Striking in its look, this Geared Steampunk Pistol Holster will turn even the most traditional of pistols into a steampunk armament that you will be proud to own, carry, and show off.

Key Features:
A helpful and handy accessory
Also a very cool accent to hang on your belt
Designed to fit civil war and western style pistols
Has two leather straps with clasps for easy wearing
Decorated with gears and replica bullets
A must-have for any steampunk gun-fighter, explorer, or captain
Crafted right here in the USA


Here is another picture of this fabulous holster:



Statistics

-overall length: 8" or 20 cm
-holder mouth: 4.75" wide x 2" deep
-straps: 6" long x .5" wide
-clasp: brass, spring loaded, .5" inner diameter
-weight: 0.55 lbs or 250 grams
-holster: heavy leather

Quantity currently in stock: 2

We have a Brown holster currently in stock.

Currently In Stock

Free shipping on this item!