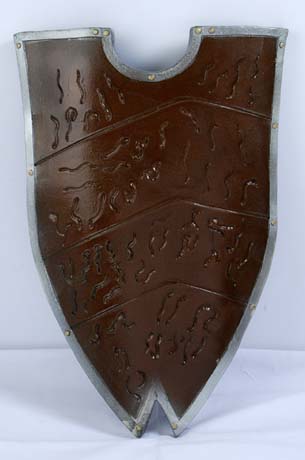 Gothic Shield (FD005)

On Clearance!!! (Normally $100)

Opponents will find it incredibly difficult to strike you when faced with this lightweight and highly maneuverable shield. Combined with the correct weapon, victory is all but certain.

The Gothic shield is based on the standard "heater" shield but includes a cutout for both viewing ease and weapon placement. This design allows the warrior to lay a weapon across the cutout if they so choose. The cutout can also be used to safely peer through the protection offered by the shield.




Statistics

-height: 27" or 67 cm
-max width (top): 19" or 48 cm
-center depth: 2.25" or 6 cm
-top cutout: 5" wide x 2.75" deep or 13 cm wide x 7 cm deep
-bottom cutout: 2.5" wide x 1.75" deep or 6 cm wide x 4 cm deep
-center depth: 2.25" or 6 cm
-foam thickness: 1.25" or 3 cm
-edges: flat
-weight: 2.1 lbs
-lift: 2 x arm straps
-design: edges embossed, patterns engraved, and painted

Quantity currently in stock: 0

On sale now! Normally $90!