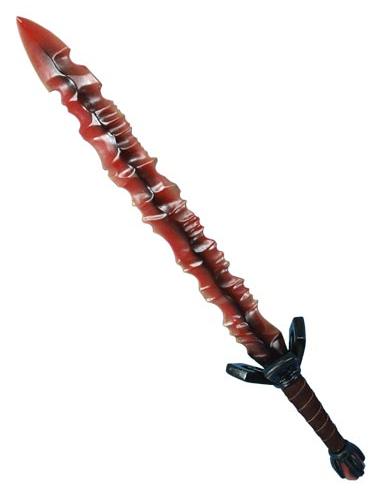 Hellfire

This is one of the most spectacular LARP swords ever created. Colorful, lightweight, safe, and beautiful, this sword exudes the essence of Fire Damage!


Statistics

-length: 34.5" or 87cm
-blade: 25" long x 3" max width x 2.25" thick or 64 x 8 x 5 cm
-tip: Beveled
-hilt: 7.5" wide x 4" high x 1.25" thick or 18 x 10 x 3.2 cm
-handle: rectangular basket, 5.5" wide x 3.5" high x 2.5" deep
-pommel: 2.5" long x 2.25 diameter or 6.25 cm x 5 c diameterm
-grip: FIRM, wrapped in black suede
-weight: 0.5 lb or 8 oz or 227 grams
-whip: None
-foam thickness depth to core on striking surface: +5/8"
-foam thickness depth to core on all non-striking surfaces: +3/8"
-foam thickness from core to end/tip: +1.5"
-foam weight: cross-linked polyethelyne, similar to Trocellen (tm)
-handle firmness: medium
-core composition: fiberglass
-weapon tip pointed
-striking surfaces beveled
-core capped to prevent tearing /splitting /punch-through of the foam

Quantity currently in stock: 1

Free shipping on this item!