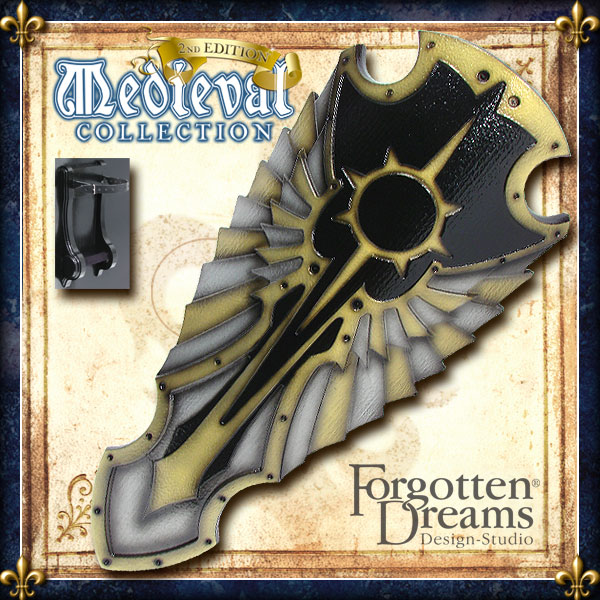 High Paladin Shield, 2nd Edition (Shown with black plate)
These items come with the background plate in four colors: Black, Blue, Green, and Red. Please be sure to specify your color choices below.

Important: Back-ordered items can take anywhere from 30-60 days to arrive from the factory.

Here are the pictures of this magnificent shield with all of the plate colors:

Black
Blue
Green
Red

The Back

The Vertical Grip
 
 

Statistics
-size: 47 tall x 20 wide inches or 119.4 x 50.8 cm
-max curve depth: 5.5 inches or 14 cm
-grip type: VERTICAL arm straps to a grip bar
-weight: 2.95 lbs or 1338.1 grams
-foam thickness: 1.25" or 3.1 cm
-foam weight: cross-linked polyethelyne, similar to Trocellen (tm)
-bar grip core composition: fiberglass
Plate Colors In Stock
| | | | |
| --- | --- | --- | --- |
| Black | Blue | Green | Red |
| 0 | 0 | 1 | 0 |

By the way, the color of the back plate on the Green High Paladin Shield we received does NOT match the dark green color shown in the picture above. The one we have in stock is a lighter green and it leans toward teal. Here are two shots of the actual shield to show you what it truly looks like.
DISCLAIMER: I absolutely SUCK at photography.


Quantity currently in stock: 0

Shipping charges apply to this item!