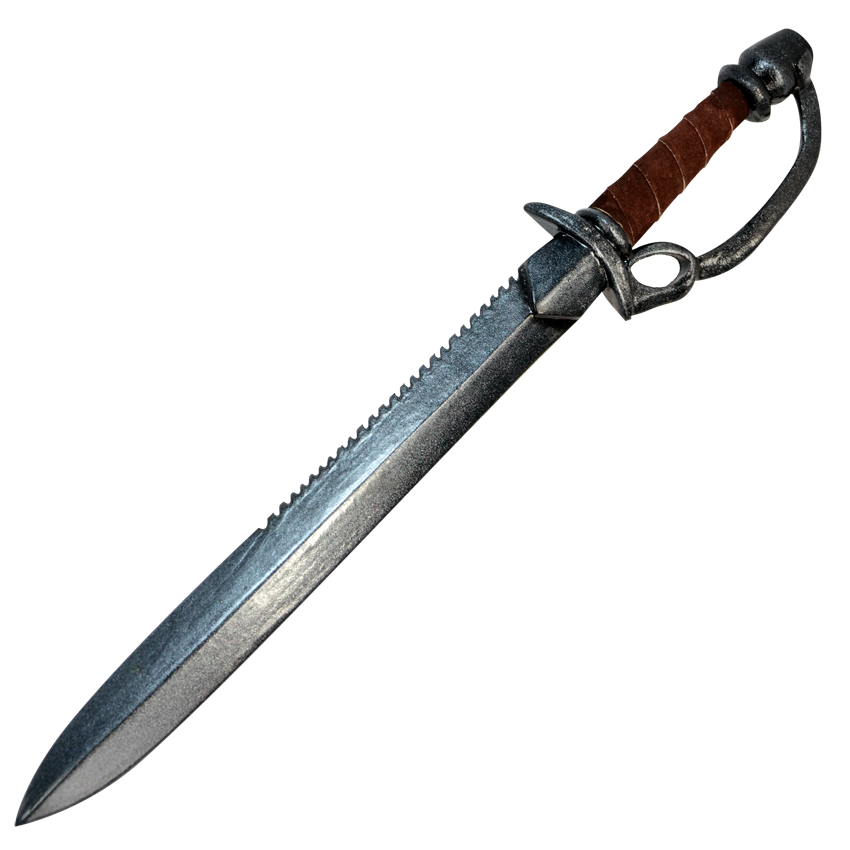 Hunting Sword (IF-402110)


Its name may imply that it is only great for hunting, but this wicked short sword is a handy weapon to have in combat, as well! The very epitome of a perfect weapon, this incredible LARP blade offers a short edge that is easily used and moved in combat, and is just long enough to give a good reach. The double-edged blade features serrations along the back edge, while the grip is wrapped in suede for a comfortable hold. It is also encased in a D-ring hand guard with a finger-ring accent, for added versatility and strength when held and used.


Here are some additional pictures of the very sleek Hunting Knife:






Statistics

-length: 24 inches
-blade: 17" long x 2" width x 1" thickness
-serrations: 8.5" long, 1" from hilt
-handle: 4" long x [1.25",1"] oval
-hilt: 3.5" long x 1.5" wide x .5" thick
-basket: 17" long x 2" deep x .5" thick
-pommel: 8" long x 1.5" x 1" thick
-handle firmness: very firm
-weight: 0.25 lbs
-foam thickness depth to core on striking surface: +5/8"
-foam thickness depth to core on all non-striking surfaces: 5/16"
-foam thickness from core to end/tip: +1 ½"
-foam weight: proprietary cross-linked polyethelyne
-core composition: fiberglass rod
-weapon tips: beveled and pointed
-striking surface: beveled
-core capped with Kevlar to prevent tearing /splitting of the foam


Quantity currently in stock: 1

Free shipping on this item!