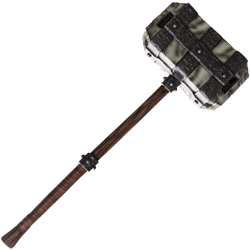 Iron Banded Stone Hammer (IF-402609)

The Iron Banded Stone Hammer is a behemoth, making it weapon to be feard! Sculpted and hand painted to look just like a heavy stone encased in bands of iron, this enormous warhammer is ideal for crushing enemies, even at a good distance!

The Stone Hammer is made of high quality, shred resistant foam, and is crafted with the utmost attention to safety. The head is hollow with an internally reinforced foam beam to maintain its shape at all times. The haft features an inner fiberglass core covered in sturdy foam.

Coated in flexible and durable latex, this LARP weapon is hand painted and looks just like a real medieval weapon. Due to its handmade nature, there may be slight variations to its construction. The grip is wrapped in leather for a firm hold and realistic look.

The Iron Banded Stone Hammer is huge, with an overall length of approximately 41 inches and a head that is basically 16 x 8 x 8 inches!

Please note that the colors and measurements can vary slightly since this is a handmade item.


Here are some additional pictures of this marvelous Hammer:

Key Features:
A great weapon for an affordable price
High safety rating, approved by the top organizations
Resilient and flexible latex coating
Hollow latex hammer head is lightweight for safety and easy use
Haft features fiberglass core
Head features interior foam rod
Sculpted and hand painted for a realistic stone, metal, and wood look
Leather wrapped grip
Measurements:
Overall Length: 41.3 Inches
Grip Length: 11.8 Inches
Head Length: 15.7 Inches
Head Height: 7.9 Inches
Head Width: 7.9 Inches
Weight: 2.7 Pounds
Measurements will vary slightly as these are handmade items.

Quantity currently in stock: 1

Due to the sheer size of this monster, free shipping is NOT available on this item.