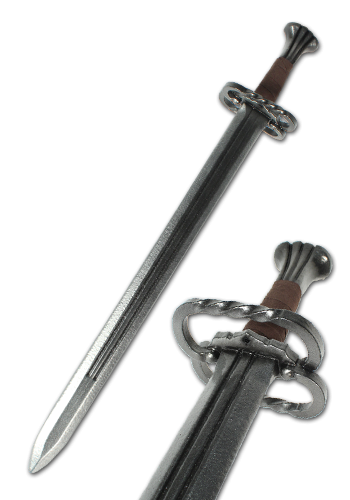 Katzbalger Sword


Product Description
Measurements: Length: 86cm
Weight: 0,30kg
Material: Closed cell chemical interconnected Polyethylene-Foam, latex and flexible gloss-coating

About this product:

Forgotten Dreams products are characterized by an exceptional quality, which is achieved by passion, an eye for detail, and by many years of manufacturing experience "made in Germany".

Through strict compliance of the highest safety standards this product is especially intended for LARP combat. That way all FD swords and shields are allowed with every Live Action Role Playing organization that does not engage in full contact combat.

This product is made of a fiberglass-core-rod which is wrapped by a thick foam coating. The upper end of the core-rod is additionally bolstered to avoid the outbreak of the core-rod under tough conditions. The foam is coated with latex and gets an authentic coloration afterwards which supports a realistic look.Additionally the weapon is treated with a gloss-finish which protects it from abrasion.

This sword is a handmade item, so its measurements may vary slightly from what it listed below.



Statistics

-length: 34" or 86 cm
-blade: 27" or 69 cm
-handle & Pommel: 6.5" or 16.5 cm
-foam thickness depth to core on striking surface: +4"
-foam thickness depth to core on all non-striking surfaces: +3/8"
-foam thickness from core to end/tip: +1.5"
-foam weight: cross-linked polyethelyne, similar to Trocellen (tm)
-handle firmness: medium
-core composition: fiberglass
-striking surface beveled
-core capped to prevent tearing /splitting /punch-through of the foam
-weight: 0.45 lbs

Quantity currently in stock: 4

Free shipping on this item!