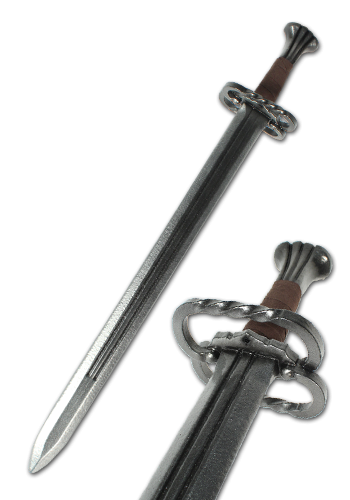 Katzbalger Sword
This product is made of a fiberglass-core-rod which is wrapped by a thick foam coating. The upper end of the core-rod is additionally bolstered to avoid the outbreak of the core-rod under tough conditions. The foam is coated with latex and gets an authentic coloration afterwards which supports a realistic look.Additionally the weapon is treated with a gloss-finish which protects it from abrasion.

This sword is a handmade item, so its measurements may vary slightly from what it listed below.



Statistics

-length: 34" or 86 cm
-blade: 27" or 69 cm
-handle & Pommel: 6.5" or 16.5 cm
-foam thickness depth to core on striking surface: +4"
-foam thickness depth to core on all non-striking surfaces: +3/8"
-foam thickness from core to end/tip: +1.5"
-foam weight: cross-linked polyethelyne, similar to Trocellen (tm)
-handle firmness: medium
-core composition: fiberglass
-striking surface beveled
-core capped to prevent tearing /splitting /punch-through of the foam
-weight: 0.45 lbs or .3 kg

Quantity currently in stock: 3

Free shipping on this item!