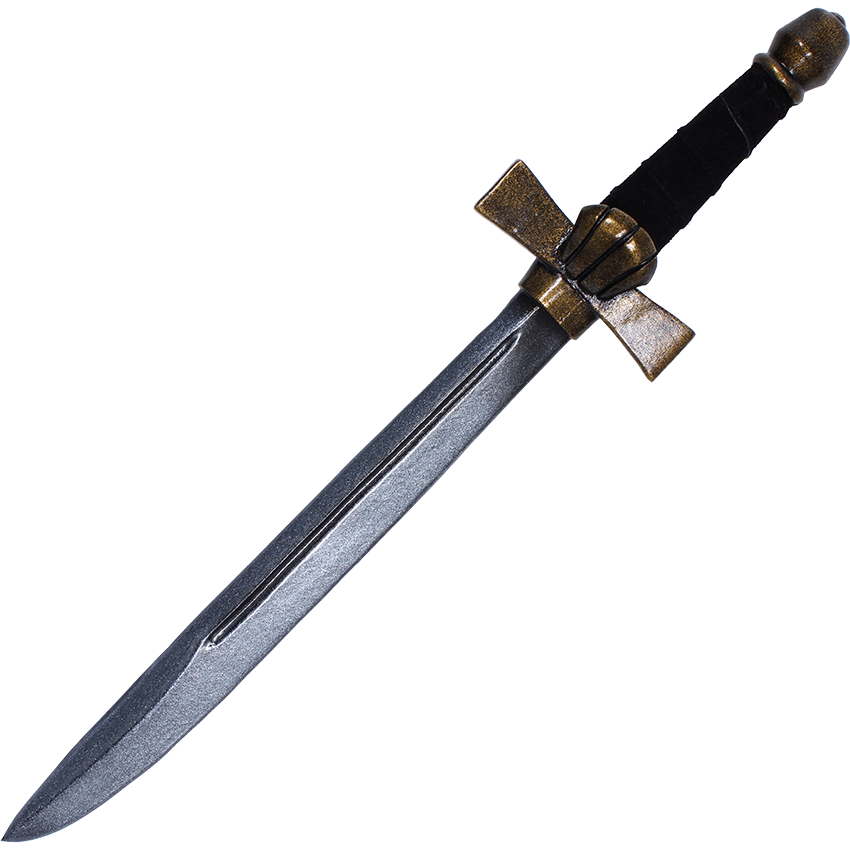 Kriegsmesser (IF-402106)


German for War Knife, the Kriegsmesser recreates a historic battle dagger that was a favorite weapon of soldiers and mercenaries throughout the Late Middle Ages, from about the 14th century to the 16th century. With its straight-edged design, this dagger is an effective primary or secondary weapon. It has a short cross-guard accented with a clam-shell on the side to provide plenty of defense to your hand. The grip is wrapped in suede and capped with a rounded pommel.


Here is an additional pictures of the sleek Kriegmesser:





Statistics

-length: 24 inches
-blade: 16" long x 1.5" width x .75" thickness
-handle: 5" long x [1.25",1"] oval
-hilt: 5" long x [1.25",1"] x [.75, .5] oval
-shell: 2" long x 2" wide x .5" thick
-pommel: 2" long x 1.25" x 1" wide
-handle firmness: very firm
-weight: 0.45 lbs
-foam thickness depth to core on striking surface: +5/8"
-foam thickness depth to core on all non-striking surfaces: 5/16"
-foam thickness from core to end/tip: +1 ½"
-foam weight: proprietary cross-linked polyethelyne
-core composition: fiberglass rod
-weapon tips: beveled and pointed
-striking surface: beveled
-core capped with Kevlar to prevent tearing /splitting of the foam


Quantity currently in stock: 1

Free shipping on this item!