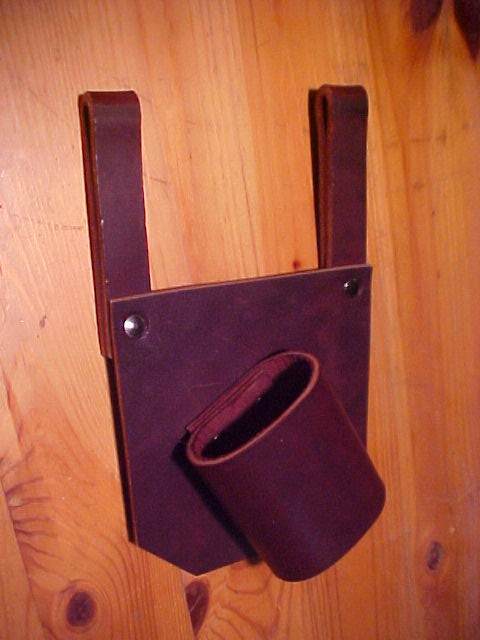 What makes our sword frogs better? Why, they are custom made for our weapons, of course! These sword frogs are made out of a beautiful heavy duty, back-sueded leather 3/16ths" thick, and are formed specifically for the blade of a latex weapon.

Say no more to swords which rattle at your belt! And never tuck your sword into your belt - that is a big no-no which causes accelerated wear and tear to your weapon.

Instead, keep your weapon safe by slipping it into one of these! Available for lefties and righties, for the ambidexterous hero inside of you!

Statistics
-length: 8"
-width: 5"
-material: durable heavy leather
-sturdy brass-riveted construction
-gracefully chanfered corners
-specially designed for Knighthawk Armoury swords
-will accomodate belts of up to 2.5" in width
-available for left and right handed use
-blade hang is 40 degrees to the back
The Leather Sword Frog is currently available in black.
Colors other than black are custom made and can take up to 14 days to be shipped
If required, please specify your custom color preferences in the COMMENT block of the checkout process.

Quantity currently in stock: 8