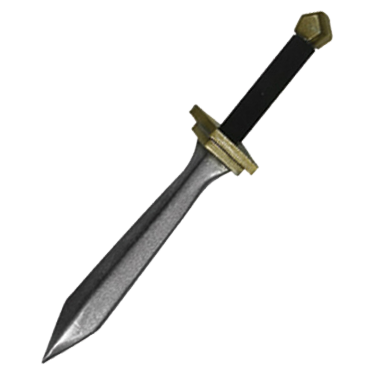 Legion Dagger

The LARP Legion Dagger is from the Ready for Battle line. The Ready for Battle line is a less expensive line, that is still durable and made of quality foam, but is not as detailed as our other lines, making them very affordable and great for beginners or those on a tighter budget. This dagger features a classic Greek or Roman design, and is a great looking dagger. With the simple design, it can be used for just about any character or theme.

The hilt and pommel comes in Gold, Silver or Bronze. Handle colors may vary as well. We will send what is available unless you specify. If you would like to see what colors are available, please contact us before ordering.

The dagger is approximately 17 Inches in overall length. This measurement will vary slightly as these items are hand made.


Statistics

-length: 17" or 43 cm
-blade: 10.5" long x [1.75, 1]" wide x .75" thick
-handle: 4.5" long
-hilt: 3.5" long x 2" wide x 1" tall
-grip: very firm
-pommel: 1.5" tall x 1.125" wide x 1" thick
-weight: 0.3 lbs or 136 grams
-foam thickness depth to core on striking surface: +5/8"
-foam thickness depth to core on all non-striking surfaces: +3/8"
-foam thickness from core to end/tip: +1.5"
-foam weight: cross-linked polyethelyne, similar to Trocellen (tm)
-handle firmness: medium
-core composition: fiberglass
-weapon tip pointed
-striking surface beveled
-core capped to prevent tearing /splitting /punch-through of the foam

Quantity currently in stock: 2

Free shipping on this item!