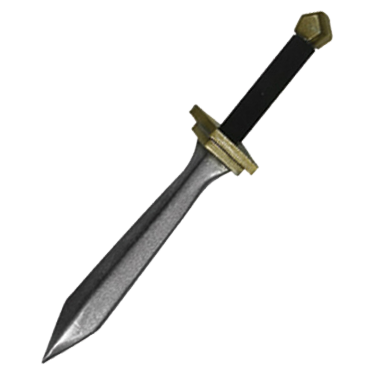 Legion Dagger

The Legion Dagger looks superb and is made in the style of the daggers carried by the Legions of Rome. This is an affordable dagger that is excellent for anyone. With its basic and simple design, it can be used for just about any character or theme.

The dagger is approximately 17 Inches in overall length. This measurement will vary slightly as these items are hand made.


Statistics

-length: 17" or 43 cm
-blade: 10.5" long x [1.75, 1]" wide x .75" thick
-handle: 4.5" long
-hilt: 3.5" long x 2" wide x 1" tall
-grip: very firm
-pommel: 1.5" tall x 1.125" wide x 1" thick
-weight: 0.3 lbs or 136 grams
-foam thickness depth to core on striking surface: +5/8"
-foam thickness depth to core on all non-striking surfaces: +3/8"
-foam thickness from core to end/tip: +1.5"
-foam weight: cross-linked polyethelyne, similar to Trocellen (tm)
-handle firmness: medium
-core composition: fiberglass
-weapon tip pointed
-striking surface beveled
-core capped to prevent tearing /splitting /punch-through of the foam

Quantity currently in stock: 1

Free shipping on this item!