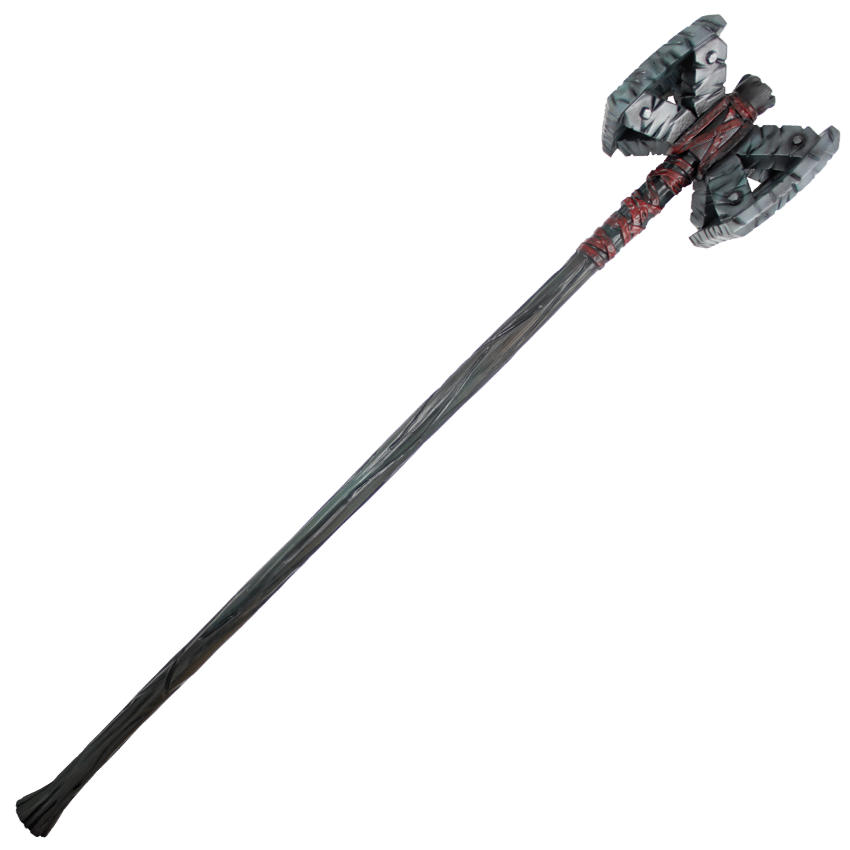 Orc's Big Stone Hammer (IF-402607)

Orcs are brutal, and they revel in their brutality. This Orc's Big Hammer is a weapon that's perfect for those who also prefer to deal harshly with their opponents and enemies. You don't have to be an orc to want to use a big hammer, especially if you just want to smash your enemies into a gooey paste. There's rally no defense against this monster, except to not be there when it strikes and staying our of the weapon's way. The haft looks like a long, rough piece of wood. The business end of the weapon is double-sided, and each end is constructed of four rough supports leading to a dlat striking surface. Go forth to smash, pound, pulverize, and grind your enemy into puddles of harmless, sticky goo.

Crude but simple, this is a perfect weapon for a strong warrior who cares not one bit about looks, and who is ONLY interested in results. Brutal results.

This weapon is made from components that make it one-hundred percent LARP safe! It is constructed from an extremely durable foam that does not shred, which has been sealed within a strong coating of latex. This weapon also features a round, flexible fiberglass core that bends and flexes, which is capped with Kevlar to prevent punch-through.

The Orc's Big Stone Hammer is very large, with an overall length of approximately 60 inches and a head that is basically 16 x 7.5 x 7.5 inches!

Please note that the colors and measurements can vary slightly since this is a handmade item.

The one we have in stock has a beautiful "moss-covered stone" green color!

Here are some additional pictures of this marvelous Hammer:

Key Features:
A great weapon for an affordable price
High safety rating, approved by the top organizations
Resilient and flexible latex coating
Hollow latex hammer head is lightweight for safety and easy use
Round Fiberglass Core is Flexible and Strong
Core is Tipped with Durable Kevlar Protection
Head features interior foam support rods
Sculpted and hand painted for a realistic stone, metal, and wood look
Leather wrapped grip
Measurements:
Overall Length: 60 Inches
Shaft: 56 x 1.5 diameter Inches
Head Length: 10 Inches
Head Height: 7.5 Inches
Head Width: 7.5 Inches
Weight: 2.0 Pounds
Measurements will vary slightly as these are handmade items.

Quantity currently in stock: 2

Due to the sheer size of this monster, free shipping is NOT available on this item.