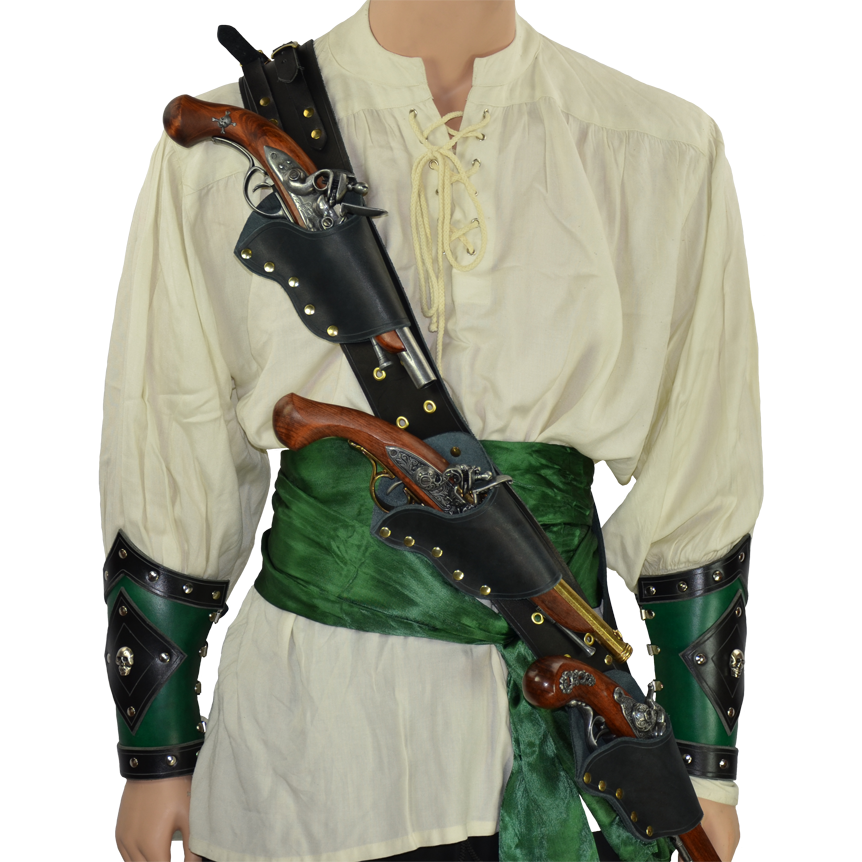 Pirate's Triple Threat Pistol Baldric

Our Pirates Triple Threat Pistol Baldric is for the serious Pirate, who needs to be armed at all times. Our pistol baldric is handmade from quality leather and features three holsters that will work wonderfully for blunderbuss style pistols as well as western style pistols. Pistols are not included with the baldric. The baldric is made from 3 inch wide leather, there are two smaller antiqued brass buckles at the shoulder for decoration, as well as multiple brass eyelets along the front of the baldric. The eyelets add visual interest, but also come in handy if you need to tie anything to the belt, a small pouch, compass, or telescope. There is one holster at the hip and two holsters across the chest. The holsters are slightly angled so the pistols are easy to grab and pull out. The pistols will sit securely in the holster.

The sizing on the baldric is of a fixed size, meaning the buckles at the shoulder are not how the baldric goes on, it is just meant to be slipped on over the head. This three holster baldric is a must have for any Pirate, and they also look great when used with Steampunk outfits. It will definitely be a great addition to your outfit.

Key Features:
Hand crafted from quality leather
Three holsters fit blunderbuss and/or western style pistols
A great look for Pirate or Steampunk themes
Adjustable sizing
Sizing:
One Size: 55 to 62 Inches
Measurements will vary slightly as these are handmade items.

Quantity currently in stock: 1

Baldrics In Stock
| | |
| --- | --- |
| Black | Brown |
| 0 | 1 |