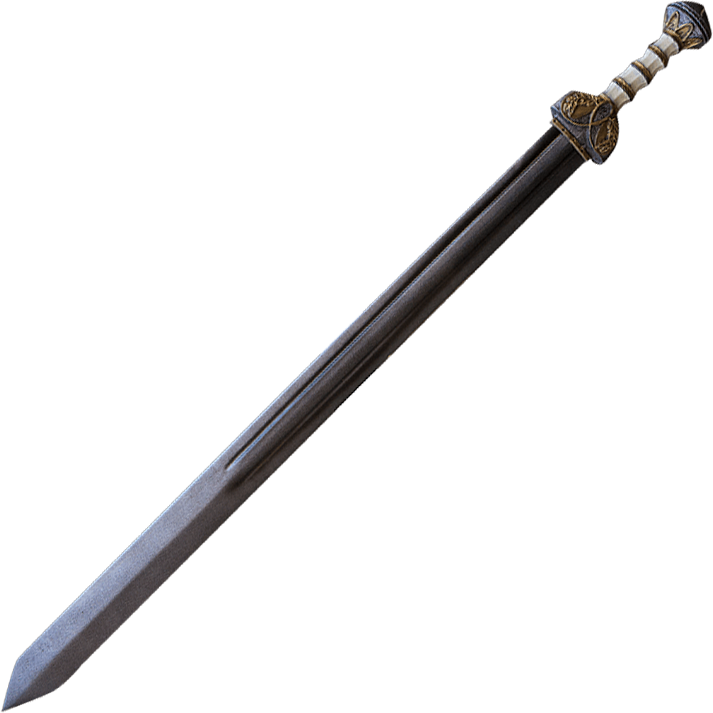 Roman Spatha Longsword (442517)
Reveal matchless prowess and loyalty to the Roman Empire as a soldier of the heavy infantry, or earn freedom and renown as a gladiator of the arena. Regardless of the chosen role, the LARP Long Roman Spatha serves well in battle. A double fuller follows approximately three-quarters of the double-edged straight blade.

The hilt, or more properly the capulus, is cast from polyurethane. Its knobbed grip creates a strong, ergonomic hold that provides for a superb grip, and aids in making concise, controlled strikes. An antiqued iron finish and golden accents decorate the guard and the spherical pommel. Elaborate laurel leaves embellish the guard as well. Golden rings and a rustic, white finish cover the grip.

This sword is crafted from closed cell foam around a solid fiberglass core. Finished with a latex coating, this amazing sword is suitable for every type of warrior..

Here are some more close ups of this marvelous sword:


Key Features:
A quality latex-hybrid weapon for an affordable price
Realistic look enhances every roleplay experience
A great LARP weapon for an affordable price
High safety, approved by the top organizations
Strong Kevlar core tip protection
Made from durable closed celled foam that does not shred
Cast hilt shows off an extreme level of detail
Grip provides for a great hold and is extremely durable
Measurements will vary slightly as these are handmade items.


Materials:
Blade is made from closed cell foam
Blade finished with a latex coating
Core is made of fiberglass
Hilt is a polyurethane cast


Statistics
-length: 41.5" or 105 cm
-overall blade length: 32" or 81.3 cm
-max blade width: 2.75" or 7 cm
-handle: 4.75" or 12.1 cm
-weight: 0.9 lbs or 408 grams
-foam thickness depth to core on striking surface: +4"
-foam thickness depth to core on all non-striking surfaces: +3/8"
-foam thickness from core to end/tip: +1.5"
-foam weight: cross-linked polyethelyne, similar to Trocellen (tm)
-handle firmness: firm
-core composition: fiberglass
-striking surface: beveled
-core capped to prevent tearing /splitting /punch-through of the foam

Quantity currently in stock: 4

Free shipping on this item!