---
| | | |
| --- | --- | --- |
| | Seafarer Short Sabre (442103) | |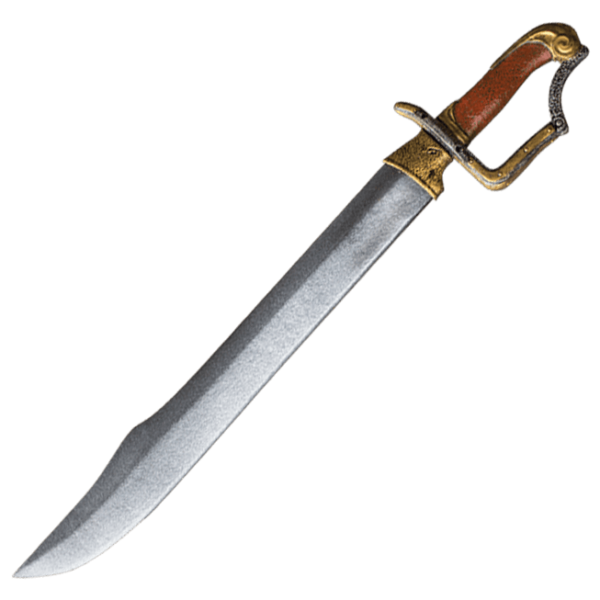 Seafarer Short Sabre (442103)
The waves of the ocean draw you away on a grand adventure. A quest upon the Seven Seas guarantees exciting tales and remarkable foes. The Seafarer Sabre ensures your character, whether pirate or naval officer, is well armed. An experienced explorer will find delight in the curved blade and golden accents of the hilt. The guard extends from the end of the blade to the pommel, supporting a firm grip and aiding in a powerful strike.

This seaworthy sword suites the image of a bold buccaneer. If you harbor the fierce spirit or cutthroat tendencies of a pirate lord, then the Seafarer Long LARP Sabre is right for you. This LARP blade is particularly suited for the devious few with a fondness for swashbuckling action.

This sturdy foam surrounds a fiberglass core and is coated with strong latex. The hilt, with its guard extending over the pommel for added security to its grip, is made out of polyurethane foam cast, allowing this section to sport a highly detailed appearance and require no maintenance. Due to its hand cast and painted nature, this Lap weapon may feature slight variations in its appearance. Command the battle and intimidate your opponents with the Seafarer Long LARP Sabre, a fantastic addition to any LARP weapon arsenal.

Key Features:
A great LARP weapon for an affordable price
High safety, approved by the top organizations
Strong Kevlar core tip protection
Made from durable Calimacil closed celled foam that does not shred
Measurements will vary slightly as these are handmade items.


Statistics
-length: 23.6" or 60 cm
-overall blade length: 16" or 41 cm
-max blade width: 2.4" or 6.1 cm
-handle: 4.3" or 11 cm .
-weight: .4" or 182 grams
-foam thickness depth to core on striking surface: +4"
-foam thickness depth to core on all non-striking surfaces: +3/8"
-foam thickness from core to end/tip: +1.5"
-foam weight: cross-linked polyethelyne, similar to Trocellen (tm)
-handle firmness: firm
-core composition: fiberglass
-striking surface: beveled
-core capped to prevent tearing /splitting /punch-through of the foam

Quantity currently in stock: 2

Free shipping on this item!
---