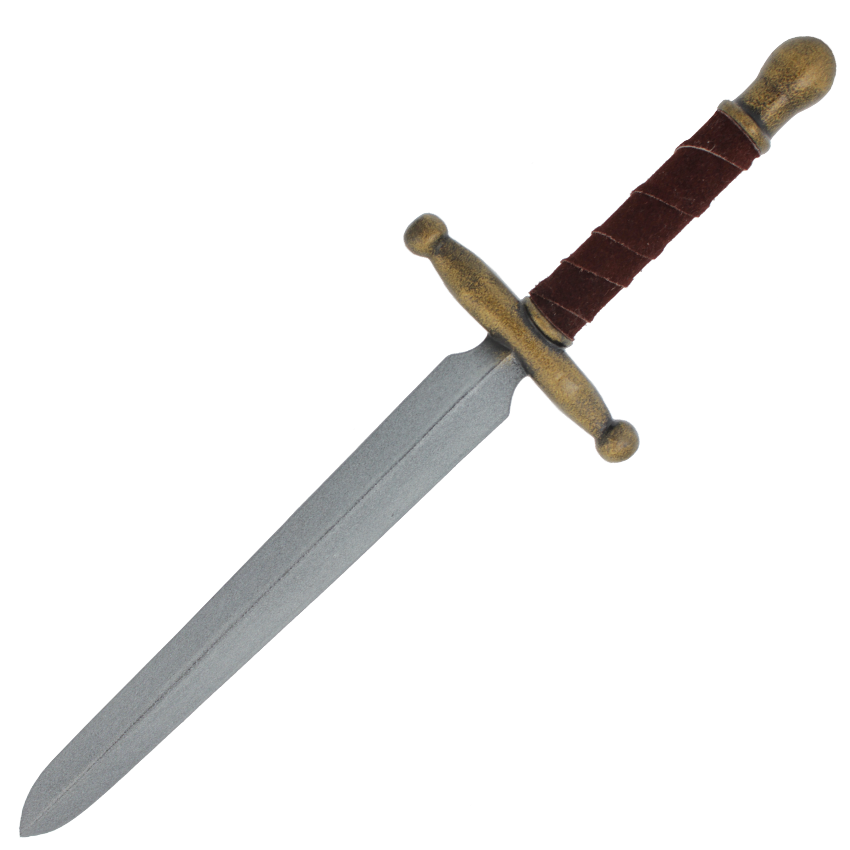 Stiletto Dagger (IF-402321)

Sometimes, you just need a dagger that looks like it will get through armor with ease...and when you're in a LARP battle, that dagger is the Stilletto LARP Dagger, which, like the stiletto of history, looks like quite the lethal little blade. Unlike the stiletto from history, this dagger features a slightly wider blade, in order to make it look more combat worthy, although the blade still features the narrow point that made the stiletto a deadly stabbing weapon. The weapon's guard is a simple cross-bar that serves well in keeping blades off your hand, while the grip is wrapped to provide a secure hold. All in all, this little dagger would make a fine assassin's tool, as well as a perfect off-handed defense. Being suited for use in LARP, this weapon isn't made from steel, but rather from quality materials that render it safe for use against willing opponents. It is crafted from an extremely durable foam that does not shred, which has been sealed within a strong coating of latex. As safety is always a concern in LARP, this weapon also features a round, flexible fiberglass core that bends and flexes. The core also features a durable Kevlar cap for added protection, both against the core and for when the weapon is used to stab.

Please note that the pommel and guard come in gold, silver, and bronze, while the handle color can vary slightly. We will send what is available unless you specify. If you would like to see what colors are available, please contact us before ordering.

The Stilletto LARP Dagger has an overall length of approximately 18 inches. Please be aware that this measurement can vary slightly, as it is a hand-made item.

Here are some additional pictures of the Stiletto Dagger:

| | | | | | |
| --- | --- | --- | --- | --- | --- |
| | | | | | |




Statistics

-length: 18"
-blade: 12" long x [1.5, 1]" width x 1" thick
-handle: 4.5" long x 1" diameter
-hilt: 5" wide x [1,.5]"tall x .5" thick
-pommel: 1.75" long x .75" diameter
-weight: 0.2 lbs
-foam thickness depth to core on striking surface: +5/8"
-foam thickness depth to core on all non-striking surfaces: +3/8"
-foam thickness from core to end/tip: +1.5"
-foam weight: cross-linked polyethelyne, similar to Trocellen (tm)
-handle firmness: medium
-core composition: fiberglass
-weapon tip pointed
-striking surface beveled
-core capped to prevent tearing /splitting /punch-through of the foam


Quantity currently in stock: 2

Free shipping on this item!