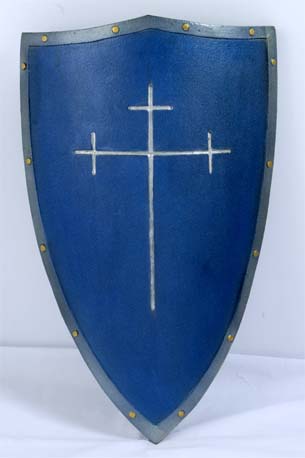 Templar Shield


On Clearance!!! (Normally $95)

Opponents will find it incredibly difficult to strike you when faced with this lightweight and highly maneuverable shield. Combined with the correct weapon, victory is all but certain.

The Templar shield is based on the standard "heater" shield and provides the maximum amount of protection with flexibility of use. That was the reason that this design was the most popular one in the Middle Ages for almost eight hundred years.

NOTE: The color of the shield plate has been changed to a MUCH darker blue, almost a midnight blue color.




Statistics

-height: 27" or 68 cm
-max width: 17" or 43 cm
-foam thickness: 1.25" or 3 cm
-edges: flat
-weight: 1.95 lbs
-grip: 2 x arm straps
-curve depth: 3" or 8 cm
-design: engraved and painted

Quantity currently in stock: 0

On sale now! Normally $90!