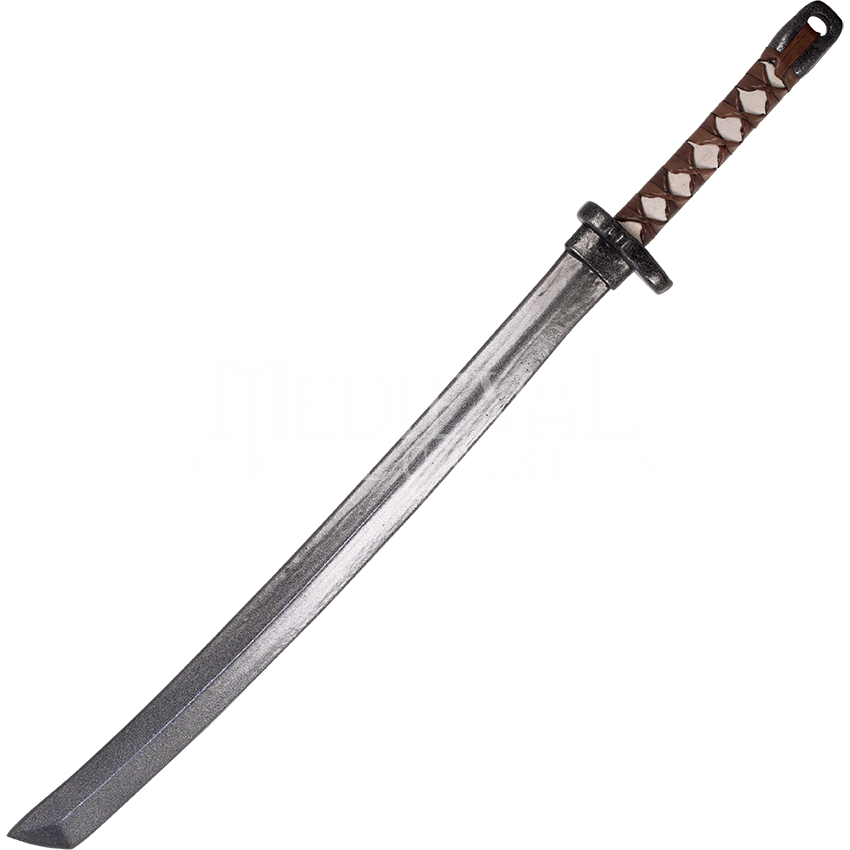 Traditional Katana
Perhaps the most effective and lethal sword ever designed, the Japanese Katana is swift, elegant, and deadly. The oblong tsuba provides for more protection for your hand than the standard round style.

Here is a picture of the handle of this Katana:



Statistics

-length: 34" or 86.4 cm
-blade: 24 x 2 x .75 inches or 61 x 5.1 x 1.9 cm
-handle: 6.75 x 1 inch diameter or 17.2 x 2.5 cm diameter
-hilt: Tsuba - 3.5 x 2 x .5 inches oval or 8.9 x 5.1 x 1.3 cm oval
-pommel: 2.25 x 1.15 x 1 inches or 5.7 x 3.8 x 2.5 cm
-grip: firm
-weight: 0.4 lbs or 227 g
-hilt size: 9.5" or 24.3 cm wide
-foam weight: proprietary composition, lightweight, sturdy, distributes force
-foam thickness depth to core on striking surface: +5/8"
-foam thickness depth to core on all non-striking surfaces: +3/8"
-foam thickness from core to end/tip: +1 ½"
-core composition: fiberglass rod
-weapon tips: semi-beveled to a point
-striking surface: semi beveled
-core capped with a fiber matrix to prevent tearing or splitting of the foam


Measurements will vary slightly as these are handmade items.

Quantity currently in stock: 0

Free shipping on this item!