---
| | | |
| --- | --- | --- |
| | Trench Knife Shortsword (442113) | |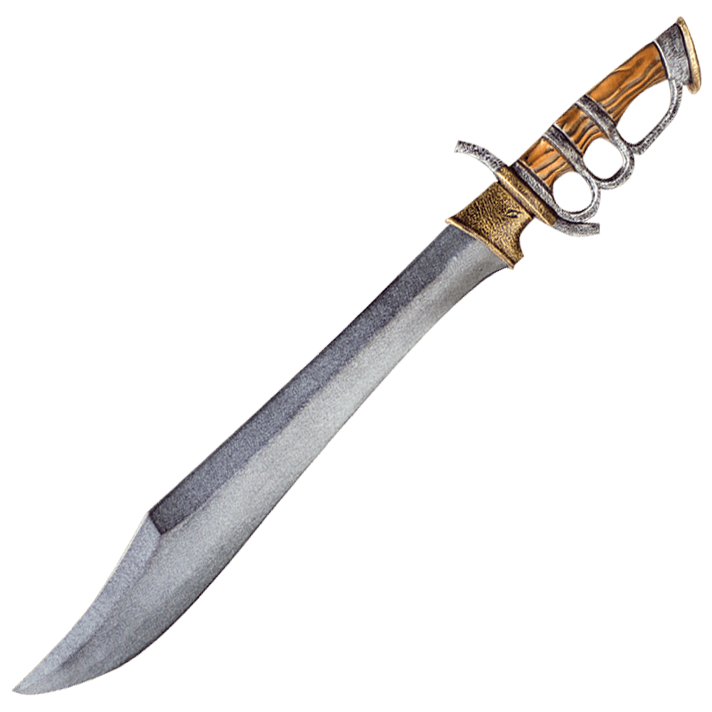 Trench Knife Shortsword (442113)
The LARP Trench Knife Short Sword is a high fantasy take on the close combat weapon used by soldiers of the First World War. Overtake the enemy trench line, whether you battle within a medieval realm or a modern military setting.

Crafted from closed cell foam around a solid fiberglass core, the saber style blade is finished with a strong latex coating. The polyurethane handle possesses a three finger knuckleduster. Hand painted gold and silver accents provide a stunning contrast with its wood grain finish. Wherever your thirst for adventure may take you, this trench sword proves its worth in LARP combat.

Here is another close up of this marvelous sword:


Key Features:
A great LARP weapon for an affordable price
High safety, approved by the top organizations
Strong Kevlar core tip protection
Made from durable Calimacil closed celled foam that does not shred
Measurements will vary slightly as these are handmade items.


Statistics
-length: 23.6" or 60 cm
-overall blade length: 16" or 41 cm
-max blade width: 2.8" or 7 cm
-handle: 4.3" or 11 cm .
-weight: .4" or 182 grams
-foam thickness depth to core on striking surface: +4"
-foam thickness depth to core on all non-striking surfaces: +3/8"
-foam thickness from core to end/tip: +1.5"
-foam weight: cross-linked polyethelyne, similar to Trocellen (tm)
-handle firmness: firm
-core composition: fiberglass
-striking surface: beveled
-core capped to prevent tearing /splitting /punch-through of the foam

Quantity currently in stock: 2

Free shipping on this item!
---