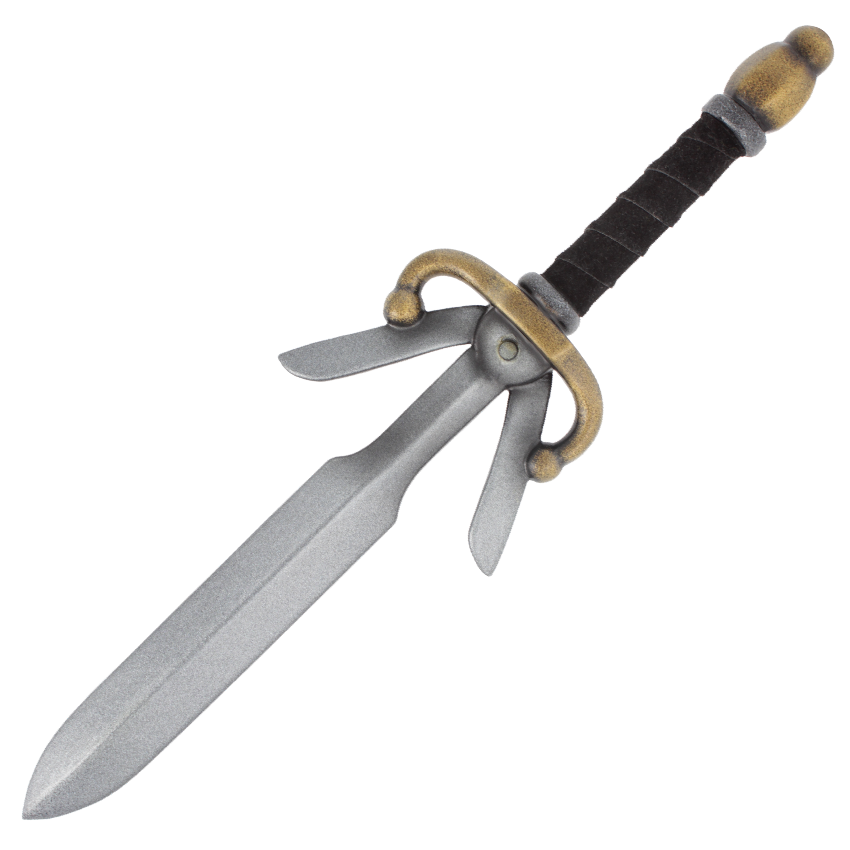 Trident Dagger (IF-402324)

History saw many different types of daggers, but this LARP Trident Dagger is definitely one that features a truly unique looking design. The unique shape makes it perfect for parrying and off-handed defense, although it serves well as a side-weapon, too. This weapon is modeled after one of the more ingenious daggers from history, some of which featured hinged blades that could be deployed when needed. Being made as it is, this dagger simply depicts the two hinged blades as permanently deployed, which creates a single combat blade, paired with two angled edges that are perfect for catching weapons. The weapon's guard has a downward curl that would make it quite effective, had the two extended blades not been open. The grip is wrapped to provide a secure hold and features a small, plain pommel.

This dagger has a stunning and realistic look, and it is also perfectly safe to use in your next LARP battle, thanks to how it's made. It is constructed from an extremely durable foam that does not shred, which has been sealed within a strong coating of latex. As safety is always a concern in LARP, this weapon also features a round, flexible fiberglass core that bends and flexes. The core also features a durable Kevlar cap for added protection, both against the core and for when the weapon is used to stab.

Here are some additional pictures of the Trident Dagger:

| | | | | | |
| --- | --- | --- | --- | --- | --- |
| | |   |   |   |   |




Statistics

-length: 19"
-blade: 12" long x [1.75, .75]" width x .75" thick
-handle: 4" long x 1" diameter
-hilt: 4.5" wide x 2" tall x 1.25" thick
-trident: 3.5" long
-pommel: 2.25" long x 1.5" diameter
-weight: 0.15 lbs
-foam thickness depth to core on striking surface: +5/8"
-foam thickness depth to core on all non-striking surfaces: +3/8"
-foam thickness from core to end/tip: +1.5"
-foam weight: cross-linked polyethelyne, similar to Trocellen (tm)
-handle firmness: medium
-core composition: fiberglass
-weapon tip pointed
-striking surface beveled
-core capped to prevent tearing /splitting /punch-through of the foam


Quantity currently in stock: 0

Free shipping on this item!