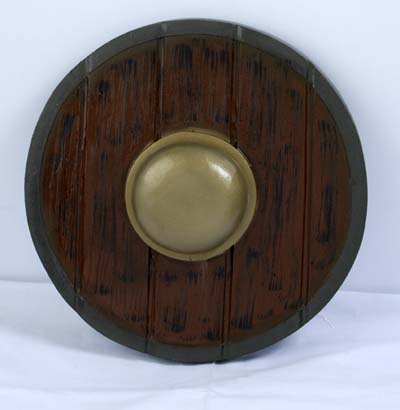 Viking Wooden Shield (FD008)

On sale now! Normally $84!

Opponents will find it incredibly difficult to strike you when faced with this very lightweight and highly maneuverable shield. Combined with the correct weapon, victory is all but certain.

This is the largest of the EagleFlex round shields. The design was originated by the Viking warriors to provide for ease of use along with protection from their enemies. This shield has a single center bar in the middle of the back which is used to grasp and manipulate the shield. This single grip makes it extremely maneuverable and very, very, fast.




Statistics

-diameter: 19.5" or 49cm
-center depth: 3.20" or 8 cm
-raised well: 2.5" or 6 cm
-foam thickness: 1.25" or 3 cm
-handle: 4.75" or 12 cm
-grip: firm
-edges: flat
-weight: 26 oz.
-lift: single center bar

Quantity currently in stock: 0

On sale now! Normally $84!