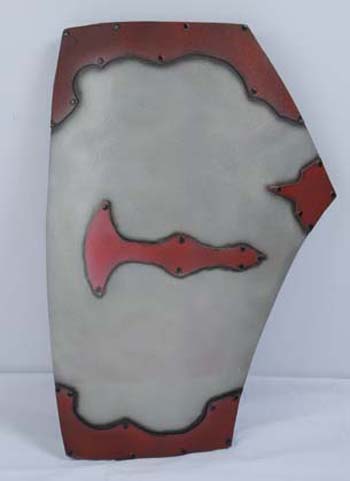 Warrior Prince Shield (FD001)

On Clearance!!! (Normally $100)

Opponents will find it incredibly difficult to strike you when faced with this lightweight and highly maneuverable shield. Combined with the correct weapon, victory is all but certain.

The unique design of the Warrior Prince shield allows for maximum flexibility while providing protection along the length of the warrior's body. The arms are fully protected, but the slimmed lower portion of the shield allows it to me moved very quickly as needed. This is also an extremely popular design for equestrian warriors.


Statistics

-max height: 27" or 67 cm
-min height: 26" or 65 cm
-max width (top): 19" or 48 cm
-top segment width: 12" or 30 cm
-min width (bottom): 10" or 25 cm
-center depth: 2.25" or 6 cm
-foam thickness: 1.25" or 3 cm
-edges: flat
-weight: 2.1 lbs
-lift: 2 x arm straps
-design: embossed and painted

Quantity currently in stock: 0

On sale now! Normally $90!