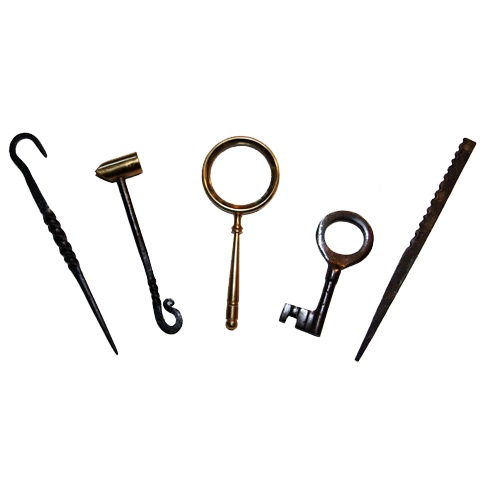 Thieves Toolkit (IF-201830)

For the ultimate LARPer who has their character completely detailed and planned out, you must add this set of Thieves Tools to your costume. The tools are a necessity for any sneaky character. The Thieves Tool set includes 1 thief pick, a mini saw, a brass magnifying glass, a key and a mini brass hammer. The tools can be kept in the high quality leather pouch that is included. Place your tools in the case, roll it us and wear it on your belt with the convenient attached belt loop.


Here are some additional pictures of the beautiful Thieves Toolkit:



We only carry the Black toolkits in stock.


Key Features:
Crafted from good quality, flexible leather
Unrolled, the it is 12.5" long x 7" tall, with individual pouches for each tool
Rolled up the kit measures 7" long x 3" wide x 2" tall
Includes all 5 tools
Kit has a built-in strap with buckle
Buckle on the strap is 1.375" x 1"
Belt loop fits up to a 2.25" belt
Weight: 9 oz. or .55 lb.


Quantity currently in stock: 3

This item is eligible for free shipping!